Issued: November 2009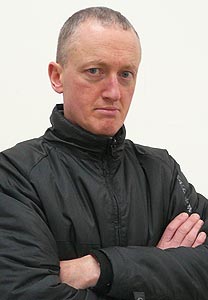 The National Gallery is delighted to announce that Michael Landy has agreed to become the next Rootstein Hopkins Foundation Associate Artist.
Michael Landy will be the eighth Associate Artist to work at the National Gallery.
Born in London in 1963, Landy studied at Goldsmiths College alongside Damien Hirst, Sarah Lucas and Tracey Emin. He is best known for his monumental Artangel commission, 'Break Down' (2001), in which he systematically destroyed all of his possessions in a former department store in London's Oxford Street. In a similarly ambitious gesture, he reproduced his parents' Essex house, to scale, in the Duveen Galleries of Tate Britain, as part of 'Semi-Detached' (2004).
His large projects are often punctuated by smaller, more intimate bodies of work – mostly groups of drawings and etchings – which also demonstrate the artist's obsessive nature. One of Landy's most recent projects has been a series of 70 intricate pencil portraits of friends, family and fellow artists. These were completed over several months, during which he drew every day, seven days a week, for eight hours a day. The works were first shown at Thomas Dane Gallery, London, and will be the subject of an exhibition at the National Portrait Gallery in the autumn of 2010.
In parallel, Landy has worked on another large group of works on paper, in which he has responded to 'Homage to New York' (1960) by Swiss artist Jean Tinguely (1925–1991). Tinguely's influential 'auto-destructive' piece consisted of a huge sculpture which partially destroyed itself in the courtyard of the Museum of Modern Art, New York. Landy's works are currently the subject of an exhibition at Tate Liverpool. An accompanying documentary, directed by the artist and supported by the Channel 4 BRITDOC Foundation, recorded the project.
Observational drawing has become an essential component of Landy's artistic practice. In 2002 he produced a series of finely wrought etchings, entitled 'Nourishment', that represent common weeds found growing near his studio in East London. One critic wrote of these that "the view from a distance suggests Ruskin's moral and ordered view of nature, while up close one's nose is in uncomfortable proximity to a pavement or back lot in Bethnal Green." 
Landy plans to begin in the studio at the National Gallery in January 2010 and to start work by making closely observed drawings from selected paintings in the collection, with the hope of finding unexpected ways of connecting to the works.
Michael Landy's works are held in numerous public collections including the Tate Collection; the Arts Council, England; and the Museum of Modern Art, New York.
For further press information please contact:
Nicola Jeffs at nicola.jeffs@ng-london.org.uk or 020 7747 2532
For public information, please contact 020 7747 2885 or information@ng-london.org.uk
The National Gallery, Trafalgar Square, London WC2N 5DN   www.nationalgallery.org.uk
Notes to editors
About Michael Landy
Michael Landy's work varies from monumental installations and epic performances to meticulous drawings and collages. His work can be at the same time naturalistic and allegorical, extreme yet light- hearted, and offers a subtle, playful and highly idiosyncratic critique of society, consumerism and the alienation of the self.
Michael Landy was born in 1963 in London, where he still lives and works. After studying at the Loughborough College of Art and Goldsmiths College, he participated in the seminal 1988 London exhibition 'Freeze'. His first major project, 'Market' (1990), consisted of a large-scale assembly of generic market stalls, artificial turf and plastic bread crates, installed in the vast disused 'Building One' in East London. His 1996 'Scrapheap Services', now in the Tate collection, is a room-size installation of a fictional 'people-cleansing' company.
In the last few works he has been scrupulously re-examining the oeuvre of Swiss sculptor Jean Tinguely, culminating in 'Joyous Machines', an exhibition of both their works in dialogue, currently on view at Tate Liverpool.
His work has been in numerous group shows since 1989, including the 1997 Sensation exhibition at the Royal Academy, London and Brilliant:  New Art from Britain at the Walker Art Center in 1995.
About the Roostein Hopkins Foundation Associate Artist Scheme
The Rootstein Hopkins Foundation Associate Artist Scheme enables leading contemporary artists to work with a collection of paintings that were made before 1900.
The appointment is by invitation and is for a period of two years. The artist is given a studio in which to make new work that in some way connects to the National Gallery Collection. It is designed to demonstrate the continuing inspiration of the Old Master tradition on today's artists.