Issued August 2014
26 November 2014 – 15 February 2015
Room 1
Free entry
Maggi Hambling, the first National Gallery Artist in Residence (1980-81), has established a reputation over the last four decades as one of Britain's most significant and controversial painters and sculptors. This autumn she returns to exhibit in Trafalgar Square for the first time in almost 35 years with a brand new series of paintings – 'Walls of Water' – which have never been seen in public before.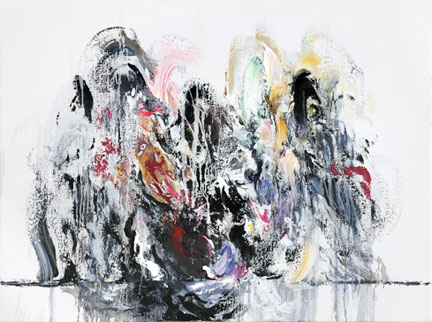 'Maggi Hambling: Walls of Water' also offers visitors to the National Gallery a contemporary parallel to the seascapes and landscapes by Norwegian artist Peder Balke (1804-1887), concurrently on show in the Sunley Room.
Hambling's continuing series of 'Wall of Water' paintings began in 2010. Eight of the works on display in Room 1 are expansive in scale – measuring over six by seven feet. There is also a ninth smaller canvas that was produced in response to the death of Amy Winehouse in 2011 (illustrated above).
All the works have their origins in the artist's experience of gigantic waves crashing onto the sea wall at Southwold – Suffolk being the county where she was born, still lives and which has often inspired her work. The exuberant colours in the paintings are in abrupt contrast with the stark blacks and whites of a related group of monotypes, channelling the flux and turbulence of the paintings.
Hambling brings rare intensity and energy to her timeless medium, continually advancing the language of oil paint. The waves, poised between animation and disintegration, speak at a fundamental level of the cycle of life and death: flickering ghosts of people and animals appear and disappear within them. She has spoken of her admiration for artists as diverse as Constable and Cy Twombly, but Hambling avoids explicit postmodern quotation. In these works, she continues to affirm painting's immediacy, saying:
"The one crucial thing that only painting can do is to make you feel as if you're there while it's being created – as if it's happening in front of you."
Maggi Hambling is represented in all major British collections, from the British Museum to Tate. Her sculpture 'Scallop' (2003) is permanently sited on the beach at Aldeburgh, Suffolk, as a monument to composer Benjamin Britten. 'A Conversation with Oscar Wilde' (1998) can be found in Adelaide Street, near Trafalgar Square.
In 2013 she was the subject of a solo presentation at the State Hermitage Museum, St Petersburg; and her acclaimed series of North Sea Paintings, begun in 2002, was most recently seen in 'Maggi Hambling: The Wave' at the Fitzwilliam, Cambridge (2010).
These new works by Maggi Hambling complement the National Gallery's exhibition on the Norwegian artist, Peder Balke, one of the most original painters of 19th-century Scandinavia.
Largely forgotten for more than a century, Balke is now being rediscovered and recognised as one of the forerunners of modernist expressionism. Balke was one of the first artists to venture to the far north of Norway. In 1832 he visited the distinctive, dramatic and rugged lands of the North Cape, an experience of primal nature so profound that he continued to paint these isolated Arctic Circle seascapes for the rest of his career. In his later works, Balke became increasingly experimental, using brushwork or even his hands to suggest seascapes – in a way that was extraordinarily prescient of later expressionism.
For further information please contact the National Gallery Press Office on 020 7747 2865 or press@ng-london.org.uk
Publicity images can be obtained from http://press.ng-london.org.uk