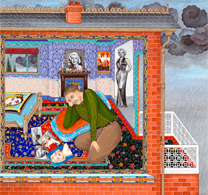 Issued May 2008
24 July - 5 October 2008
Sunley Room
Admission free
Arguably the inspiration for great art more than any other human emotion, love nevertheless presents a challenge to the visual artist. How do you depict love? How do you convey its complexity and intensity?
Comprising works of art from the 16th century to the present day, this exhibition explores how artists have represented this most powerful of emotions. Encompassing divine and mortal love, chaste and unchaste love, family love and charity, it demonstrates how artists including Raphael, Cranach, Vermeer, Holman Hunt and Marc Chagall have described or responded to love in all its complexities, across the centuries and in a variety of styles.
Fascinating juxtapositions emerge. Tracey Emin's 'Those who Suffer Love (I'm OK Now)' connects the agony of the creative process and the intricacies of human relations, looking at tensions similar to those that surrounded Dante Gabriel Rossetti's iconic 'Astarte Syriaca', painted over one hundred years previously.
From the excitement and aspirations of a newly-formed couple, to the comfort and complicity of a long-standing relationship, each stage of love has its pleasures. Some of these are present in works by Stanley Spencer and Joseph Wright of Derby; more broadly, a work by Marc Quinn considers the perception of couples in society.
The embrace of 'Kiss' questions concepts of beauty and preconceptions about entitlement to affection – while, caught in a moment of passion, the close-knit pair seem oblivious to the outside world.
Paintings by the Singh Twins juxtapose the dissatisfaction of celebrity worship with the joy of love reciprocated; Sir Lawrence Alma-Tadema paints two women whose friendship will be ruined by their love for the same man.
These works serve to remind us that love is not always a source of happiness and can sometimes lead to jealousy and betrayal. In 'Medea' – most dramatically – Anthony Frederick Sandys indicates how Jason's rejection of the Scythian princess will result in deception and death.
Love's power to beat all kinds of adversity is also revealed in the exhibition. In 'The Good Samaritan' by Jacopo Bassano, as a traveller tends to the wounds of a total stranger, neighbourly love overcomes racial and religious prejudice. In David Hockney's 1961 painting 'We Two Boys Together Clinging', meanwhile, a locked embrace suggests how love can grow stronger in a hostile world.
Love is the seventh in a series of exhibitions organised in partnership with Bristol's Museums, Galleries & Archives Service and Tyne & Wear Museums. The National Gallery Touring Partnership (2006–2008) is supported by the Heritage Lottery Fund, the Northern Rock Foundation, the Esmée Fairbairn Foundation and in London by the Bernard Sunley Charitable Foundation.