Issued: May 2012

22 September – 15 December 2012
Hurdle Gallery, Plymouth City Museum and Art Gallery
Admission Free
Organised by the National Gallery and Plymouth City Museum and Art Gallery.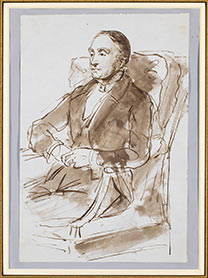 This autumn the National Gallery, London, is collaborating with Plymouth City Museum and Art Gallery to explore the life and legacy of Sir Charles Eastlake (1793–1865). Painter, scholar and arts administrator, Eastlake was born in Devon, a county that has produced many great British artists. This exhibition investigates Eastlake's artistic development in Plymouth and subsequent activities as a central figure of the Victorian art world – he is best remembered for being President of the Royal Academy and the first director of the National Gallery.

The show will bring together a selection of paintings associated with some of Eastlake's distinguished art teachers, as well as by his friend J.M.W. Turner, from the collections of Plymouth City Museum and Art Gallery and the Royal Albert Memorial Museum & Art Gallery. A selection of the Old Master paintings that Eastlake acquired for the nation will be on display, along with rarely seen documents from the National Gallery's archive, which demonstrate the extraordinary lengths to which he went to acquire these masterpieces.
Eastlake received his art education initially from two Plymouth-born painters, Samuel Prout and Benjamin Haydon, and learned much from the teachings of a third Devonian, Sir Joshua Reynolds, the first president of the Royal Academy. He also met Turner, who made several sketching tours in Devon, sketching in Eastlake's company in 1813. Eastlake went on to spend 14 formative years in Rome from 1816. He was in touch with many influential European thinkers and writers on the practice and theory of art, and toured Europe to study the Old Masters at first hand (his copy after Titian's 'Death of Saint Peter Martyr' will form part of the display). Eastlake returned to London in 1830 and became known as a writer on art and, increasingly, as an arts administrator. He was elected President of the Royal Academy in 1850.
Eastlake had been Keeper (curator) and then a trustee of the National Gallery. Through the influence of men such as Sir Robert Peel and Prince Albert, who admired him greatly, he became the Gallery's first Director, after its reconstitution in 1855. At this point he abandoned his career as a painter. As Director, Eastlake used new executive powers to set about developing coherent policies on acquisition and display. He wished to acquire pictures that could form a representative account of the history of western European painting. He made it a priority to purchase early Italian art, but subsequently acquired later pictures (such as Moroni's Portrait of a Man holding a Letter ('L'Avvocato')) and northern European art (including Jacob van Ruisdael's A Waterfall in a Rocky Landscape) – both of which will be displayed. During his directorship, contemporary British art was also added to the collection, notably with Turner's generous bequest (including Margate (?), from the Sea). Eastlake's notebooks (one of which will be shown) are preserved in the National Gallery's archive, and reveal his thoughts about the authenticity, technique, state of preservation and fairness of the asking price of the pictures he saw. He often travelled with his wife, Elizabeth, who became a respected art critic in her own right. She kept a lively correspondence about their travels and made copies after the Old Masters, and a rediscovered album of her drawings including these copies and her published Journals and Correspondence will also be on display.
By the time he died in 1865, Eastlake had ensured that his nation possessed a picture collection of remarkable range and quality that was displayed in appropriate frames, in historical sequence and in well-lit and sympathetically decorated rooms – a legacy which continues to influence Gallery policy today. This exhibition will seek, against the backcloth of his Plymouth and Devon origins, to show what a significant and fascinating figure Eastlake was. The friend of great artists, distinguished politicians and royalty, the legacy Eastlake left his country, too often forgotten, will be given fresh and eloquent expression.
For further press information please contact:

Jo Clarke, Marketing and Programme Development Officer at Plymouth City Museum and Art Gallery, on jo.clarke@plymouth.gov.uk / 01752 306228

Alexandra Moskalenko, Press Officer International at the National Gallery, on alexandra.moskalenko@ng-london.org.uk / 020 7747 2596

For public information please contact 01752 304774, museum@plymouth.gov.uk or visit www.plymouthmuseum.gov.uk [external link]
Notes to editors
Press view

Friday 21 September 2012, 12pm–1.30pm at Plymouth City Museum and Art Gallery, Drake Circus, Plymouth, Devon PL4 8AJ
Dates and opening hours
Saturday 22 September – Saturday 15 December 2012
10am – 5.30pm Tuesday to Friday
10am – 5pm Saturday
Closed Sunday and Monday
Admission free