Issued December 2014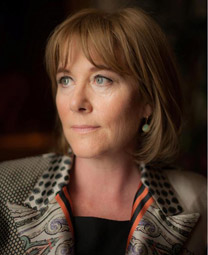 The Trustees of the National Gallery are delighted to announce that Hannah Rothschild has been appointed by them as Chair of the Board.
Hannah Rothschild will take over as Chair from Mark Getty, who will step down from the role when his current term comes to an end on 10 August 2015.
Hannah Rothschild, a writer and filmmaker, has served on the Gallery's Board since March 2009. She will be the first woman Chair of the National Gallery.
Speaking on her appointment, Hannah said:
"From a very young age, the National Gallery has been a source of inspiration and solace. It is a great honour to be elected as its Chair to succeed Mark Getty in August 2015 and to work with fellow trustees to ensure that the collection is protected, that general admission remains free and that the National Gallery's exhibition, education, science, academic and conservation programmes continue to be internationally respected and challenging."
Mark Getty said:
"Hannah Rothschild has been an outstanding Board member for more than 5 years and I am delighted that she is to succeed me as Chair. With her passion for and commitment to the National Gallery, she will work alongside the next Director to provide the leadership the Gallery needs in the years ahead."
National Gallery Director, Dr Nicholas Penny said:
"Hannah Rothschild has defended the National Gallery interests and supported its ambitions with energy and imagination. She will be an exceptionally committed Chair."
Secretary of State for Culture, Media and Sport, Sajid Javid said:
"The National Gallery is one of this country's most important and well-loved museums and galleries - a cultural success story with visitor numbers at unprecedented levels of over six million a year. So I welcome Hannah Rothschild's appointment as their next Chair. Her experience of the gallery will build on the successes achieved under the chairmanship of Mark Getty.  I am confident that the National Gallery's development as a home of artistic, educational and research excellence will continue."
Hannah Rothschild's first term as Chair will last until March 2017 when she will be eligible to serve a further term, subject to the Prime Minister's consideration at the appropriate time of any reappointment as a trustee.

NOTES TO EDITORS
Hannah Rothschild is a writer, a filmmaker and a non-executive director.

Her documentary feature films, made for the BBC's 'Arena', 'Omnibus' and 'Storyville' series, have been shown on HBO, PBS, BBC and at major international film festivals. Working Title and Ridley Scott have optioned her original screenplays. She has written for 'The New York Times', 'The Telegraph', 'Vanity Fair', 'The Independent', 'Bazaar', 'Vogue' and others.

Her biography 'The Baroness' was published in 2012 and has been translated into six languages. Her novel, 'The Improbability of Love' will be published in May 2015 by Bloomsbury in the UK and in the USA by Knopf in September 2015.

The co-founder of the charity 'Artists on Film', she has lectured on art and film at the Getty Institute in Los Angeles, the Royal Academy, the Hay Festival and at the Courtauld. She is a trustee of The National Gallery, Tate and Waddesdon Manor. She serves on the boards of various charitable foundations in the UK and abroad.

She lives in London with her three daughters.

The National Gallery Board consists at any one time of 12 to 14 Trustees, all of whom are appointed by the Prime Minister save for one , who is appointed by the Board of Tate . The Trustees appoint one of their number to be Chair.

For further information and images please contact the National Gallery Press Office on 020 7747 2865 or press@ng-london.org.uk.