18 March 2015
We are delighted to announce that Dr Gabriele Finaldi has been appointed Director of the National Gallery.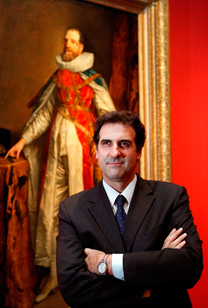 Dr Finaldi will take up his new position in August 2015, following the retirement of our current Director, Dr Nicholas Penny.
Born in London, Dr Finaldi studied art history at Dulwich College and then at the Courtauld Institute of Art. He joins us from his position as Deputy Director for Collections and Research at the Museo Nacional del Prado in Madrid, where he has served since 2002.
His new appointment marks a return to the National Gallery for Dr Finaldi, who was formerly our Curator of Italian and Spanish Paintings, from 1992 to 2002.
At the Prado, Dr Finaldi has overseen a remarkable transformation of the institution, which included the opening of the Prado extension in 2007 and the Prado Research Centre in 2008, as well as a complete re-hang of the museum's collection.  
He also spearheaded the acquisition of Pieter Bruegel the Elder's 'Feast of the Wine of Saint Martin' and the early and exceedingly rare French panel painting attributed to Colart de Laon, 'The Agony in the Garden with the donor, Louis I of Orléans'.
Dr Finaldi said:
"I feel deeply honoured to take on the Directorship of the National Gallery after Nicholas Penny. This is a world-class collection in a world-class city and I eagerly look forward to working with the Trustees and the staff to strengthen the Gallery's bond with the public and its international standing. I also look forward to developing an exciting exhibition programme and the Gallery's research and educational activities."