Issued March 2015

1 April – 13 September 2015
Room 1
Admission free
When you go to see an exhibition at the National Gallery you'd normally expect to see paintings – not this spring, however, as from 1 April to 13 September, it is frames that are the stars of the latest show to open in Trafalgar Square. 
Frames in Focus: Sansovino Frames will showcase 30 frames gathered in London from across Europe. However, only two of them will include paintings – one of the first times ever a UK gallery has created an exhibition (almost) purely from frames alone.
National Gallery Director Dr Nicholas Penny explains the reasoning behind this unique show:
"Over the last decade the National Gallery has acquired numerous fine historic frames. This exhibition and the related publication is designed to help visitors appreciate one type of such frame as an elegant and exciting form of furniture which is both sculptural and architectural and which belongs to the history of ornament and the history of display as well as to the history of painting."
Although early altarpieces were usually framed, it was not until the mid-16th century that the majority of frames were designed as removable items. 
Associated with Venice and the Veneto in the second half of the 16th century, the highly detailed frames on display at the National Gallery take their name from the Italian architect and sculptor, Jacopo Sansovino, who introduced the style of the High Renaissance into Venice. While Sansovino's work cannot be associated with the invention of these frames, he had such a lasting reputation that in the 19th century, the term 'Sansovino frames' was used to describe Venetian frames created in a distinctly elaborate early-baroque style.
Long considered one of the most innovative of frame types, the Sansovino Frame broke away from the idea of the frame as a contained border and experimented with more traditional architectural forms. Often characterised by carved overlapping scrolls, garlands of fruit, masks, broken pediments and even animals, the ornamental features of the frames frequently matched the carved ornamentation of the furniture that kept them company.
This unique free exhibition will showcase 30 Sansovino frames dating from 1560 to 1590 which have been lent by the Victoria and Albert Museum and private international collections. The two frames that include paintings are Portrait of Girolamo Fracastoro by Titian and The Music Lesson possibly by Titian, both from the National Gallery collection.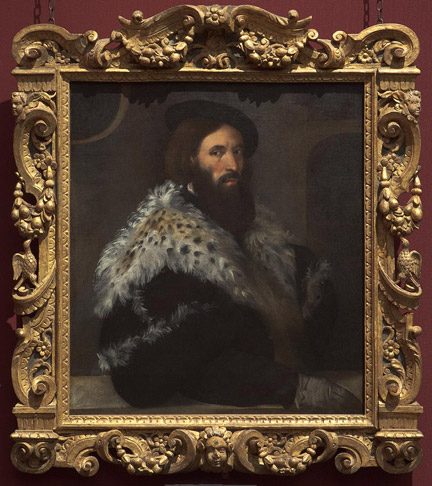 National Gallery Head of Framing, Peter Schade, said:  
"It is the first exhibition anywhere which is concentrating on just one recognisable type of frame, trying to show all the possible variations within one style. It's probably the greatest gathering of Sansovino frames ever."
Caroline Campbell, National Gallery Head of the Curatorial Department and Curator of Italian Paintings before 1500 said:  
"We hope that this exhibition will alert visitors to how frames shape their experience of paintings.  Frames are certainly functional, but they're also objects of great beauty. We've chosen to devote our first frame exhibition to Sansovino frames, as they're arguably the most inventive picture frames ever devised."
'Frames in Focus: Sansovino Frames' is curated by Peter Schade, Head of Framing; Caroline Campbell, Head of the Curatorial Department and Curator of Italian Paintings before 1500; and Harriet O'Neill, Vivmar Curatorial Assistant.
'Frames in Focus: Sansovino Frames' is generously supported by Madeleine and Timothy Plaut.
NOTES TO EDITORS
Dates and opening hours
Open to public: 1 April – 13 September 2015
Daily 10am–6pm (last admission 5pm)
Fridays 10am–9pm (last admission 8.15pm)
For further information, please contact the National Gallery Press Office on 020 7747 2865 or email press@ng-london.org.uk.
Publicity images can be obtained from http://press.ng-london.org.uk. To obtain a username please contact the National Gallery Press Office.