11 September 2015
We are pleased to announce that the Business Archives Council (BAC) has generously granted £3,000 to the National Gallery's Research Centre to catalogue the correspondence of the art dealership, Thos. Agnew & Sons Ltd.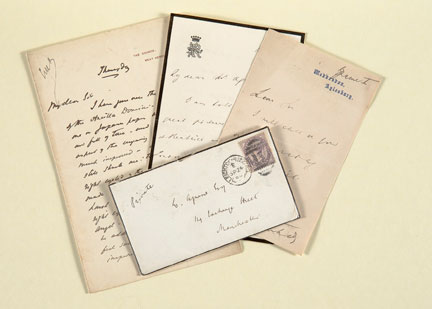 These letters (c1822-1937) are a crucial source of information for anyone tracing works of art or researching the history of art collecting. While the stock and financial records are a core resource for provenance research, the firm's correspondence with contemporary artists (including Edward Burne-Jones and Thomas Faed) and significant clients such as the Rothschilds, gives clues to the personal, face-to-face side of business, and the intricacies of specific sales.
A large proportion of the correspondence was not retained by the firm, giving even greater significance to that which survives, and making this part of the archive a priority for detailed cataloguing.
The in-depth work on the firm's correspondence which the BAC grant will directly support the ongoing project to catalogue the Agnew's archive in its entirety and ensure that these valuable records are made fully accessible to researchers.
For more information about the BAC Cataloguing Grant for Business Archives related to the Arts, and past recipients of the award, please refer to their website.