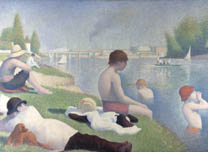 Issued May 2007
'Manet to Picasso: A Redisplay of Modern Masters from the National Gallery Collection' has just seen its one millionth visitor - the first time in National Gallery history a free display or exhibition has reached this milestone.
The show became the most popular free display in National Gallery history back in January 2007 - beating the previous record of 572,244 visitors to 'London's Monets' set eleven years previously. With an average of more than 4,000 visitors each day, 'Manet to Picasso' is well on course to more than double the previous record before it closes.
'Manet to Picasso' opened on 22 September 2006, offering visitors a unique opportunity to re-examine the National Gallery's permanent collection, learning more about well-known works such as Seurat's 'Bathers at Asnières and Van Gogh's 'Sunflowers', as well as the opportunity to enjoy many works generously lent to the display by private collectors.
The stories behind the paintings and how they were made certainly seem to have captured the public's imagination and inspired new art lovers.
Charles Saumarez Smith, Director of the National Gallery said,
One of the greatest pleasures of the last year has been to see the enormous numbers of visitors who have come to see 'Manet to Picasso' in order to appreciate the great quality of the National Gallery's nineteenth-century collection, and to enjoy the paintings in a more focussed way made possible by the Sainsbury Wing exhibition galleries.
'Manet to Picasso' remains open until 23 May 2007.
Notes for Editors
The previous record for attendance at National Gallery free displays was held by 'London's Monets' (12/03/96-05/05/96) with 572,244 visitors. In second place was 'Van Gogh to Picasso: The Berggruen Collection at the National Gallery' (16/01/91-21/04/91) with 529,509 visitors.
The record for attendance at National Gallery exhibitions with an admission charge is held by 'Velázquez' (18/10/06-21/01/07) with 302,520 visitors. In second place is 'Degas: Beyond Impressionism' (22/05/96-26/08/96) with 283,000 visitors.
In 2006 there were 4.6 million visitors to the National Gallery, up from 4.2 million in 2005.
For further press information please contact:
Tracy Jones on 020 7747 2512 or e-mail tracy.jones@ng-london.org.uk