Avignon from the West
New scientific analysis shows Corot reworked this painting - read on to find out what the original painting looked like.
Technical notes
Oil on canvas, lined, 34.0 x 73.2 cm, visible surface (edges are covered by brown paper). Signed bottom right in brown paint: COROT. (fig.1)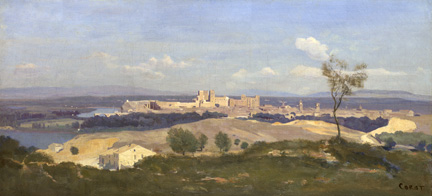 Support
The canvas is lined and the stretcher is presumably original. A label on the back with a Gothic 'f' and the number '69' possibly refers to James Staats Forbes, a former owner of the work. Similar labels have been found on other paintings in the Gallery's collection which are known to have come from his collection1.
Materials and technique
2
The off-white ground is predominately lead white. The entire foreground has been painted over by the artist with a dark olive-green paint.
The X-ray photograph (fig. 2) shows that the road which appears on the right actually runs along the entire foreground as far as the houses, but has been softened, and in some places eliminated by this khaki scrub-like landscape (fig 3). To the upper right of the foreground houses, a cliff or quarry was later covered over by a tree3.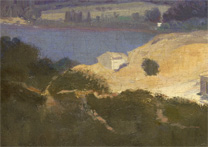 A ragged edge of dull olive-green paint, applied with a dry brush, is visible under the top edge of the khaki overpaint, especially around the group of trees, left of centre. It is also visible under the green of the tree left of centre, overlaid with a blue-green, and by the house, indicating that this is part of the reworking, and suggesting that the small group of trees was also almost certainly added at this time (fig 4).
In addition, scientific analysis has shown that the dull green of the middle foreground is multi-layered, with up to six layers over the ground. Some of these layers contain cobalt blue, orange (possibly vermilion) and ultramarine blue. The sky contains cobalt blue and lead white with traces of opaque red. There are no traces of dirt or varnish between the layers, suggesting that Corot did not add the top layer at a substantially later stage.
The repainting is also stylistically of the same period. In the case of another view of the area painted in 1836, 'Villeneuve-lès-Avignon, Fort Saint-André' (The Hague, Mesdag Museum; fig. 5), Corot returned to the painting in around 1865 to1870. He again reworked the foreground, adding a clump of trees and some figures, but the additions are predominantly in his late style, and the flickering touches of foliage and shimmering brushwork contrast with the tighter handling of the main picture4.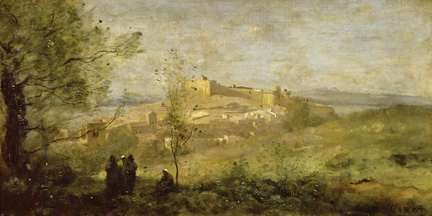 Medium analysis has shown the presence of heat-bodied walnut oil (or a mixture of linseed oil and poppyseed oil) and heat-bodied linseed oil as binders.
Conservation and condition
NG 3237 was cleaned and restored by the Gallery in 2000. The paint is generally in good condition. There is a prominent craquelure, and during the 2000 restoration a substantial discoloured varnish engrained into the paint texture was cleaned off.
1. Such labels have been found on Corot, Summer Morning (NG 3238); Diaz, Venus and Cupids (NG 3246); attributed to Rousseau, Moonlight with Bathers (NG 3269); Matthijs Maris, Men unloading Carts in Montmartre (NG 2874), and Jacob Maris, The Three Windmills (NG 4399).
2. For a full discussion of materials and technique see article by  S. Herring, 'Six Paintings by Corot in the National Gallery: Methods, Materials and Sources', National Gallery Technical Bulletin, 30, 2009.
3. This might be the cause of the remark when the painting was exhibited at the Royal Academy: 'His [Forbes's] Avignon is a comparatively early Corot, less dexterously and more laboriously touched than most of those in the Grafton Gallery that we mentioned last week.' See The Athenaeum, 15 February 1896, p. 223.
4. For a description of these changes see F. Leeman and H. Pennock, Museum Mesdag. Catalogue of Paintings and Drawings, Zwolle 1997, p. 138, no. 70.
5. E. Moreau-Nélaton in Robaut 1905,  I, p. 78.
6. Villeneuve-lès-Avignon. Vue prise d'Avignon  (R330),  Villeneuve-lès-Avignon: Vue prise dans le jardin de l'hospice (R331), both Paris, Musée du Louvre,  Villeneuve-lès-Avignon (R329), Indianapolis Museum of Art,  Villeneuve-lès-Avignon, Fort Saint-André (R333), The Hague, Mesdag Museum,  and Études de cypress  (R334). See also the following painting by Prosper Marilhat (formerly attributed to Corot), probably painted on the same trip: Villeneuve-lès-Avignon, Musée des Beaux-Arts de Reims.
7. See V. Pomarède, M. Pantazzi and G. Tinterow in Paris/ Ottawa/New York, 1996–7, no. 67.
8. See A. Roquebert, 'Quelques observations sur la technique de Corot', in Corot, un artiste et son temps. Actes des colloques organisés au Musée du Louvre par le Service Culturel les 1er et 2 mars 1996 à Paris et par l'Académie de France à Rome, Villa Médicis, le 9 mars 1996 à Rome, Paris and Rome 1998, pp. 73–97 and  84–5 on this, and the authors she quotes.
9. For Forbes see C. Welch, 'Forbes, James Staats (1823–1904)', rev. R. Harrington, Oxford Dictionary of National Biography, Oxford  2004, vol. 20, pp. 291–2. E.G. Halton published a series of articles on Forbes' collection in The Studio in October 1905.  For  his importance to the National Gallery see Herring  2001, pp. 77–89.
10. On Lane as a collector, his Gallery of Modern Art, and his bequest to the Gallery see particularly B. Dawson, ed., Hugh Lane: Founder of a Gallery of Modern Art for Ireland, London 2008.
11. 'En 1873 Corot avait prêté cette étude au peintre Edouard Brandon.  Il l'a probablement copiée'. Robaut 1905, II, p. 116, no. 328. Brandon, who studied at the Ecole des Beaux-Arts from 1849, with François Picot, Antoine Montfort and Corot, is best known for his pictures of Jewish themes.
12. It is stated in the sale catalogue that it had come from a Corot sale, which appears to be incorrect. Ernest May  was a Parisian financier who was an important collector of the Impressionists.  He regularly bought, sold and exchanged paintings, making it difficult to gauge his collection at any one time. The painting by Degas, Portraits at the Stock Exchange of c. 1878-9 (Paris, Musée d'Orsay), includes in the centre a portrait of May. Information on May from A. Distel, Impressionism: The First Collectors, New York 1989, pp. 223–9.
13. As stated by Bodkin.
14. This and the other two Corots, NG 3238 and NG 3239, were among the original fifteen pictures selected by the National Gallery as being suitable for hanging. Interestingly, the portrait (now thought to be by a follower) was singled out as being of higher quality than the two landscapes by D.S. MacColl, then Keeper of the Wallace Collection, in an undated report on the collection. The landscapes were described as being 'not so outstanding in merit'. On the other hand, John Singer Sargent, in a further report, described the painting as 'a charming example of [Corot's] best period.' Papers in National Gallery Archive.
15. One of 31 of the 39 Lane paintings included.
16. A reference to the painting appears in Bodkin 1932: 'an inferior version…which is in the collection of Monsieur Jacques Ernest May, was shown in 1932, in the exhibition of French art at Burlington House.'