Along with Painting History, you can also visit these Lady Jane Grey and Delaroche displays elsewhere in London – why not make a day of it and visit all three?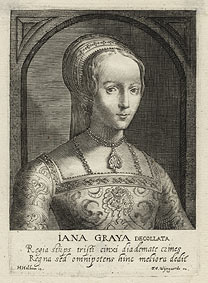 Lady Jane Grey at the National Portrait Gallery
Until 11 July 2010
Admission free
It is not known for certain whether a portrait of Lady Jane Grey was painted during her lifetime. This display will chart the expansion of Lady Jane Grey's posthumous iconography in print, from the van der Passes's influential engraving for Henry Holland's 'Heroologia' (1620) to prints after the sentimental history paintings that became popular in the 19th century. The display explores how these works promoted Lady Jane as a Protestant heroine and martyr.
Find out more on the National Portrait Gallery website [External link]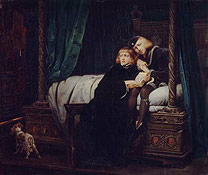 New Delaroche display at the Wallace Collection
24 February – 23 May 2010
Admission free
To complement 'Painting History: Delaroche and Lady Jane Grey' at the National Gallery, the Wallace Collection is mounting a special display of its paintings by Paul Delaroche - the finest collection of his works outside the Louvre.
The display includes versions of three of his most famous works, 'Joan of Arc in Prison', 'The Assassination of the duc de Guise' and 'The Princes in the Tower'. The Wallace Collection's pictures will be shown in the context of other early 19th-century French and British paintings by Bonington, Delacroix, Wilkie and others, allowing fascinating comparisons to be made with the paintings on display at the National Gallery.
Find out more on the Wallace Collection website [External link]