Read the artist biographies
Chris Ofili
Born in 1968 and educated at the Royal College of Art, Ofili lives and works in Trinidad.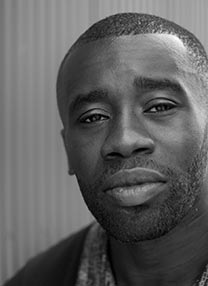 From jazz to hip hop, blaxploitation movies to the Bible and Zimbabwean cave paintings to the works of William Blake, Ofili has appropriated sexual, cultural, historical and religious references to create richly layered works.
The artist's early paintings combined paint, glitter, collaged images and elephant dung. More recent works adopt simple, pared-down forms while continuing to be just as expansive, dramatic and romantic – full of references to sensuality, sexuality and his ongoing exploration of biblical themes.
Ofili won the Turner Prize in 1998, and represented Britain at the Venice Biennale in 2003. His work has been the subject of solo exhibitions worldwide, including a recent mid-career retrospective at Tate Britain, London (2010).
Conrad Shawcross
Born in 1977 and educated at the Slade School of Art, Shawcross lives and works in London.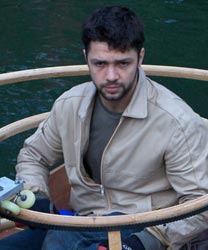 Shawcross's sculptures explore subjects that lie on the borders of geometry and philosophy, physics and metaphysics. Attracted by failed quests for knowledge in the past, he often appropriates redundant theories and methodologies to create ambitious structural and mechanical montages, using a wide variety of materials and media. Different technologies and natural forces inspire his forms, but his mysterious machines and structures remain enigmatic.
Shawcross's first public commission, 'Space Trumpet', won an Art & Work Award in 2008, and in 2009 he was awarded the Illy prize for best solo presentation at Art Brussels. A two-year post as Artist in Residence at the Science Museum, London, culminated in an exhibition in 2011. His work has been exhibited internationally, including a recent display at Musée d'art moderne du Grand-Duc Jean (MUDAM), Luxembourg.
Mark Wallinger
Born in 1959 and educated at Goldsmiths College, Wallinger lives and works in London.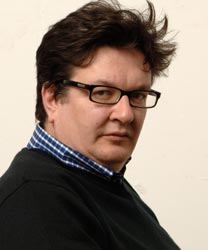 As a conceptual artist whose work has encompassed painting, photography, sculpture and installation, Wallinger investigates a diverse range of subjects from sport and popular culture to literature and religion. An abiding concern is with the relationship of the individual to the wider social and political context.
Wallinger's practice extends to curating: his Hayward Gallery exhibition, 'The Russian Linesman' (2009), brought together contemporary and historical works to develop a long-held fascination with boundaries and thresholds.
Wallinger's 'Ecce Homo' was the first sculpture chosen for the vacant Fourth Plinth in Trafalgar Square in 1999. He represented Britain at the 2001 Venice Biennale and in 2007 won the Turner Prize. Of his many major exhibitions, the most recent are at Museum De Pont, Tilburg, Netherlands, and currently, BALTIC Gateshead (until 14 October 2012).