Annunciation
The Virgin Mary was visited by the angel Gabriel, sent by God to Nazareth, who told her that she would give birth to Jesus, the son of God.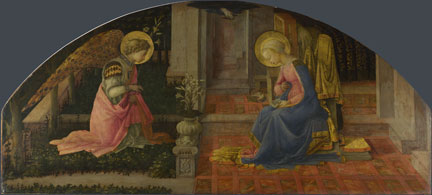 In this beautifully symmetrical depiction of the Annunciation, the angel Gabriel is shown on the left with peacock feather wings. It was traditionally thought that at the moment of Gabriel's arrival, Mary was reading the prophecy in the Old Testament book of Isaiah that a virgin would give birth to a son.
At the top of the picture the hand of God can be seen sending the Holy Spirit in the form of a dove towards an opening in the front of Mary's dress. The curved top of the panel indicates that it may have been intended as a furniture painting, or perhaps to be hung above a doorway, probably in a palace owned by the Medici family.
Below the central urn containing lilies, a symbol of Mary's purity, is a carving of three feathers inside a diamond ring. This was an emblem adopted by several members of the Medici family.
Painting
Fra Filippo Lippi
about 1450-3
Next: Dream of Saint Joseph