Four top tips for families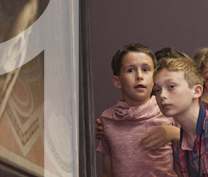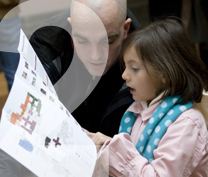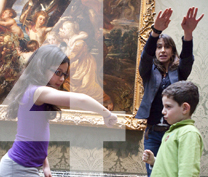 Other ways to explore
Here are some ways to enjoy your time together as a family.
Go on a scavenger hunt
Try making a themed family visit, looking closely for as many dogs, babies, shoes, dragons, hats or trees that you can find. You could even start by looking online and printing out things that look interesting, or buy postcards in the shop that you like, and then 'hunt' for the pictures in the Gallery.
Make your own gallery
Organise your favourite paintings by striking and unusual themes, such as:
paintings featuring storm clouds
houses with fires burning
men holding shields
women with babies
people who are smiling
people wearing hats
people bending over or twisting
paintings with imaginary creatures
Talk about how you've chosen to put these paintings together with your family, and discuss why they aren't organised like that. How are the paintings organised?
Storymaking as you go
Make up a story as you journey through the Gallery:
Pick a portrait you would like as the main character of your story
Choose a landscape as a setting and start to tell your tale
Pick another painting and build it into the story
Move on to another painting and develop the story as you go, incorporating each new picture as a device to move the story on
You'll have created obscure and wonderful stories that you can retell at bedtime. You can also buy some postcards or print pictures off at home to illustrate these stories.
Learning resources
Take inspiration from some of the learning resources we've developed on our Schools Programme: