Listen to writer William Fiennes discuss the secret life of Jan Gossaert's 'Elderly Couple'.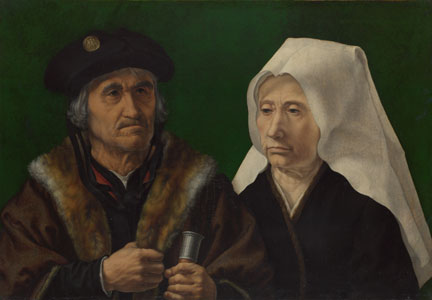 William Fiennes: Jan Gossaert's 'An Elderly Couple'
Jan Gossaert, 'An Elderly Couple' – 29 mins 55 secs

William Fiennes was invited to the Gallery in January 2010 as part of the 'Writers in the Gallery' series of talks for Friday Lates. He was asked to discuss any picture in the collection, and found himself drawn to a painting he had never noticed before: An Elderly Couple by Jan Gossaert.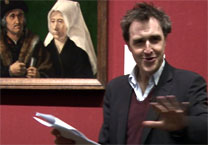 In this talk, held in front of the painting, he discusses what Gossaert's picture means to him, drawing connections with Ovid's classical poetry and the short stories of Italian writer Italo Calvino.
About William Fiennes
William Fiennes's first book, 'The Snow Geese' (2002), won the Hawthornden Prize and the Somerset Maugham Award. His latest book is 'The Music Room' (2009), a powerful and tender evocation of his childhood.
More on this painting