Jem Finer
Jem Finer, artist and founder member of The Pogues, has developed various sound projects in recent years. The first live performance of 'Longplayer', a 1,000-year-long composition commissioned by Artangel, took place at the Roundhouse, London, in September 2009. 'Score for a Hole in the Ground' is a permanent musical installation in a forest in Kent.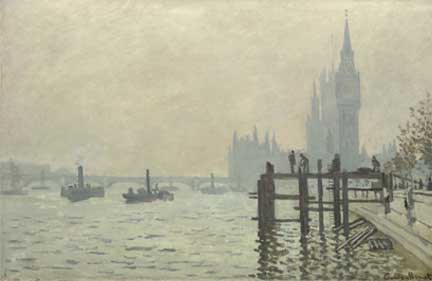 Jem Finer
Jem Finer's response to Monet: 'The Thames below Westminster'
© Jem Finer
Artist's commentary
Standing on the embankment, looking from the east towards Westminster, little has changed since Monet painted the Thames in the 1870s. Time flows in different ways; through the elemental river, the ephemeral light and the bells in the tower, still marking the hours. Nor has much changed in the sonic landscape, save for the hum of traffic and Heathrow bound jets.
I thought of the river as a drone; as a constant through history and as a sound about which the composition would revolve.
It was hard to make recordings in situ. At all times of day and night traffic was present, bleeding onto my tapes. Even below the waters there was no escape from noise pollution. Using underwater microphones the high pitch whine of river boats was invasive to the point of drowning out the river's eddies and flow.
In the end I made recordings in the middle of the night when at least the boats were silent. I was wary of making the composition too literal, but certain elements – aside from the obvious case of the river – insisted on their inclusion; birds, the creak of a gangplank, the tug boat, ghosts of voices, Big Ben.
Nothing is quite what it seems though. As through a fog sounds are muted, their reflections across the banks slowed to amplify the misty light; a trumpet note and the recording of the river itself, from beneath the surface. This became an important idea, the adding of dimensions, expanding out of the flat surface of the painting, down below the water and up into the air, the illusion of space through echo and reverberation.
All this I saw as an accompaniment to something more melodic. The piece starts – and ends – with a simple tune played on a music box. I took this from the introduction to an older composition of mine, Pont Mirabeau, a song setting Apollinaire's poem to music. Another river, another bridge, a nod to Monet's own capital city and a musical technology as old as the painting itself.
In between a piano rises out of the depths. Watery and impressionistic it drifts for a while before slowly sinking away.