Take a tour of the collection with artist Ben Johnson – discover how painters throughout history have constructed architecture and space.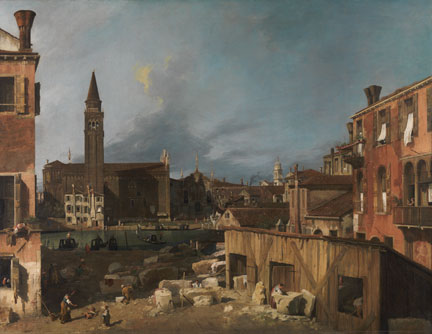 Ben Johnson: An Artist's Perspective
Canaletto, 'The Stonemason's Yard' – 1 min 10 secs
Transcript
Ben Johnson: For me, this is a very wonderful painting. It's a wonderful painting because it's so different to most Canalettos. And I have to admit that Canaletto is not one of my favourite artists. He's an artist that intrigues me, fascinates me. And what I enjoy are not the ceremonial paintings, not the grandness of Venice but the humility, honesty and straight-forwardness of 'The Stonemason's Yard'.
What we're seeing in this painting is a humble scene. It's the scene where the stonemason, his wife and child are creating the Venice that will become the magnet to so many tourists in the future. In the middle of the painting, we see a very, very simple object: it's a pair of dividers. And we see a ruler. And we see somebody hollowing out the inside of a capital. We see stone being turned into buildings. What we're seeing is the construction of a future city.
Ben Johnson on why he enjoys the humility and honesty of Canaletto's Stonemason's Yard – the subject of a new work he is creating for the National Gallery.
More about this painting