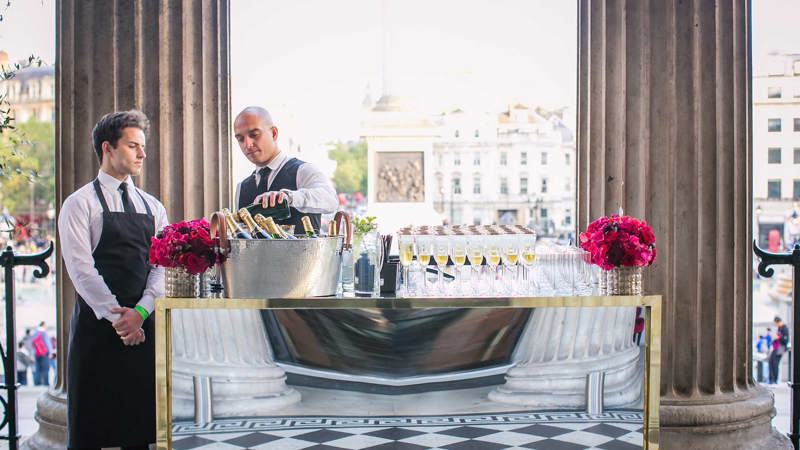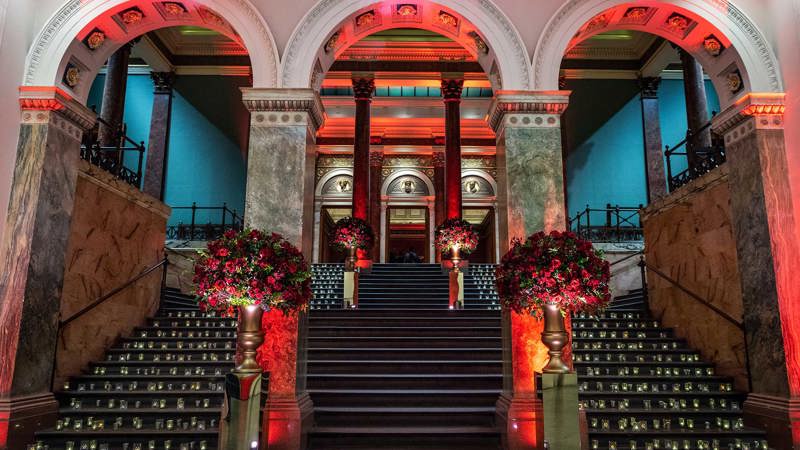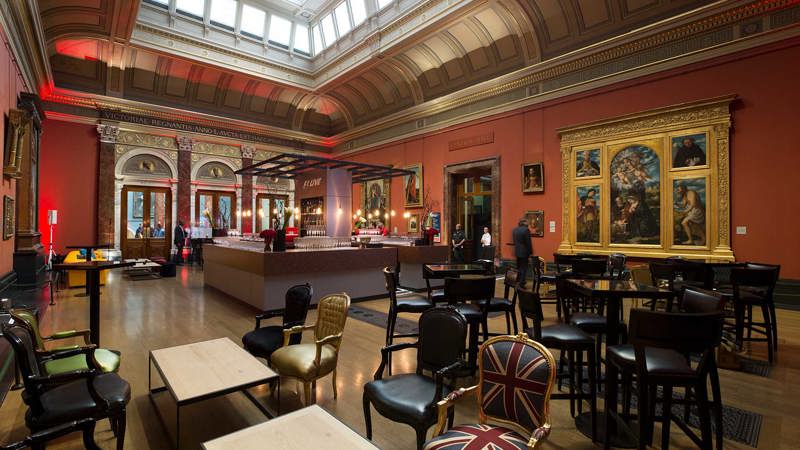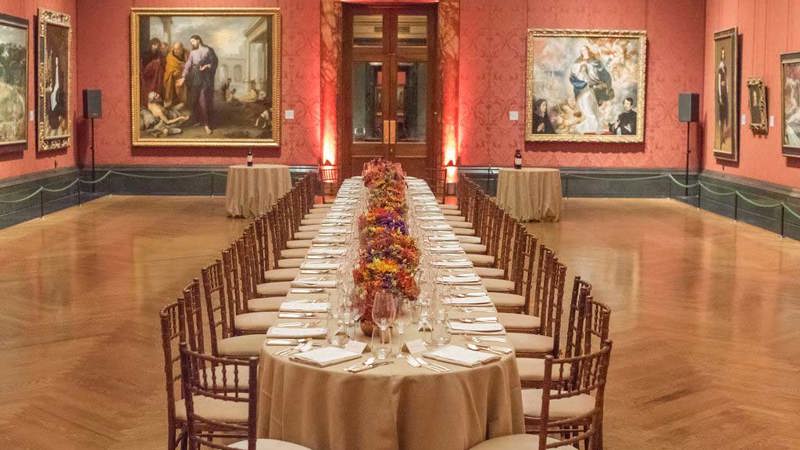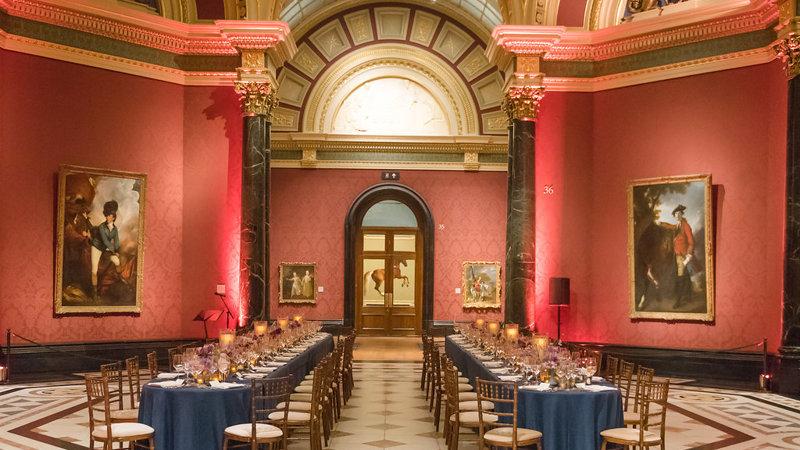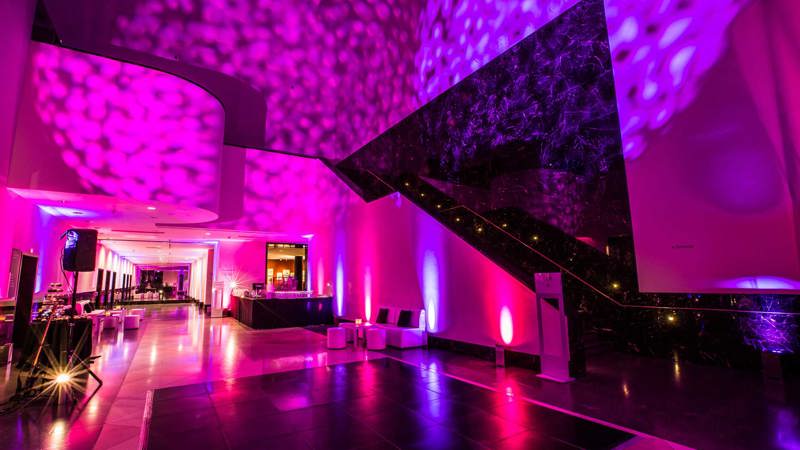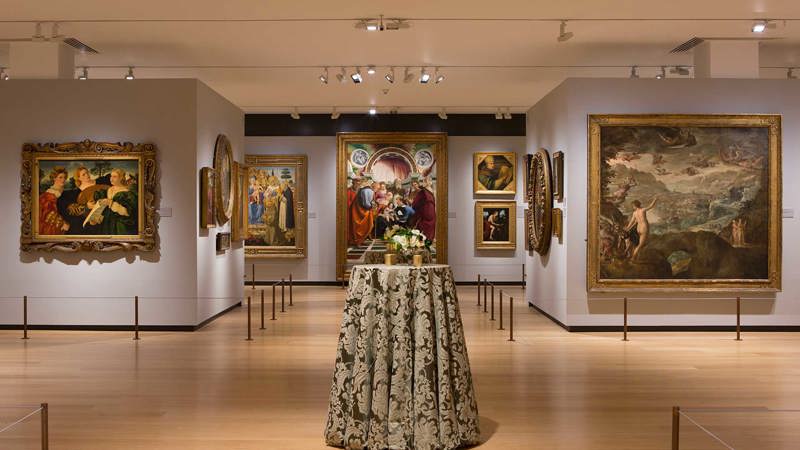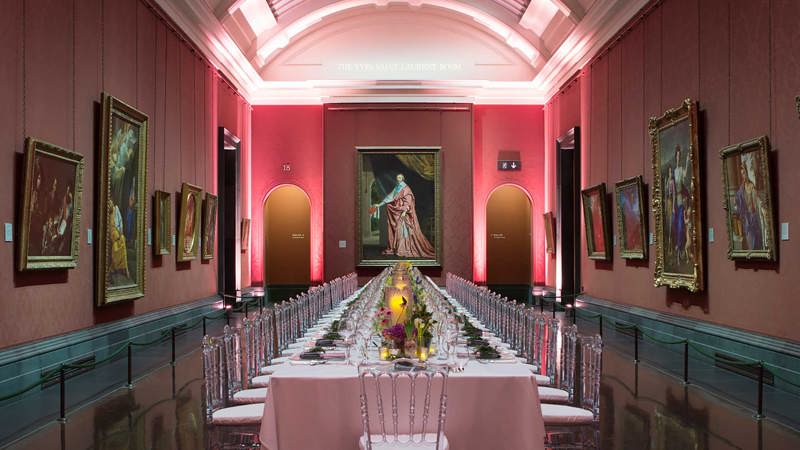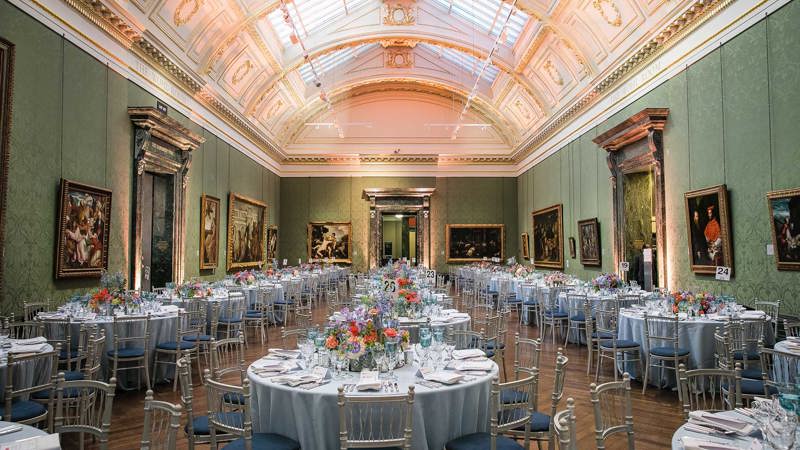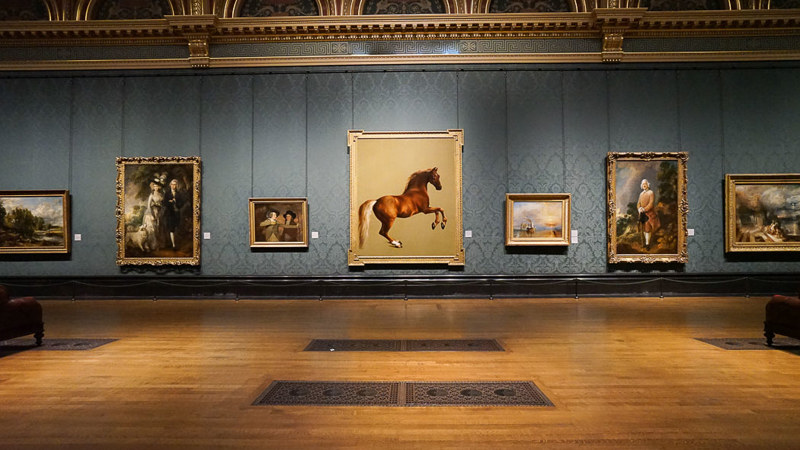 The Portico Terrace
Take in the atmospheric views of Trafalgar Square, Westminster and St Martins-in-the-Fields from our Portico Terrace.

Reception: 100 outside, up to 200 including the Foyer
Dinner: 60
The Mosaic Terrace
Step inside the Gallery onto the vibrant mosaics, beautifully lit by a domed glass ceiling. This unique artwork by Boris Anrep celebrates personalities of 1930s Britain.

Reception: 60
Dinner: 40
Central Hall
The striking marble entrance leads up to the spectacular Central Hall, providing an immediate warm welcome. Central Hall is beautifully lit by an elevated glass ceiling and is lined with rich red walls.

Reception: 200
Dinner: 100
Room 30
Room 30 has some of our most famous Spanish paintings including Velázquez's 'Rokeby Venus'. This luxurious space provides an unforgettable welcome.

Reception: 300
Dinner: 220
The Barry Rooms
Our most opulent event space. The Barry Rooms makes an immediate impression with a breath-taking domed ceiling, beautifully detailed marble pillars and our unrivaled British portrait collection

Reception: 300
Dinner: 150
Annenberg Court
Annenberg Court is a contemporary space that can be dressed for all types of events and has been used for fashion events and after-dinner dancing. 

Reception: 200
Dinner: 110
Dancing: 200
Gallery A 
Gallery A tells the story of 600 years of European painting in one contemporary space. This space is also available to hire from 2.30pm.

Reception: 300
Dinner: 108
Yves Saint Laurent Room 
The Yves Saint Laurent Room is an elegant gallery dedicated to Rubens, the most celebrated Flemish painter of Western art.
Reception: 100
Dinner: 60
The Wohl Room 
Home to the Gallery's impressive collection of Venetian paintings, including works by Titian, Veronese, Tintoretto and Bassano, all hung against lavish damask walls beneath a spectacular glass ceiling.

Reception: 450
Dinner: 300
Private tours
Make the most of your exclusive access to the Gallery with a private tour. An art historian will lead you through the empty Gallery after hours to discover the history and stories from our collection. Also available are bespoke tours and talks, built around your theme.
Tours start from £250 + VAT for up to 30 guests per hour, in addition to a venue hire fees.