Individual donors
Donations, of all amounts, received from individuals, help the National Gallery to promote the joy of looking at and learning about Old Master paintings. Art touches and enriches lives, and our supporters help us ensure we are maximising the opportunity of this unrivalled collection in the heart of London, through programmes and activities which involve and engage people of all backgrounds.
The Gallery's world-class collection was founded and developed thanks to the generosity of individuals: Sir George Beaumont and John Julius Angerstein.
Since then, generations of generous philanthropists have continued to make substantial gifts, both of paintings and financial support, which have had a fundamental impact on the Gallery. We depend increasingly on the generosity of our community of individual supporters, including our Patrons, the George Beaumont Group and George Beaumont Circle.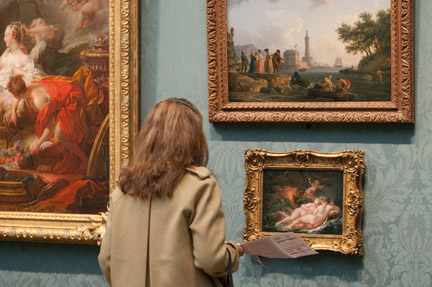 Gifts from major supporters enable the Gallery to conserve and re-frame paintings, mount exhibitions, carry out ground-breaking research, and continue to widen access to this important collection. We are also extremely grateful to major donors who have made significant commitments to support the Gallery through the Benefactors' Circle and the Director's Circle. 
Thank you to all our individual supporters, past and present, for enabling the Gallery to remain ambitious and innovative in our work in caring for this world-class collection and promoting understanding of, and passion for Old Master paintings.
A list of our current supporters can be found in the Annual Review.
Contact us
If you are interested in finding out about ways to become more closely involved with the work of the National Gallery, please contact: 
Ursula Faure-Romanelli, Development Manager
Tel: 020 7747 5879
Email: development@ng-london.org.uk