There's more than one way to view Daphne's metamorphosis and Apollo's thwarted tackle. Explore the possibilities with Hanna.
This is a YouTube video player. Below the video are the title, view time and description. Below that is a carousel of video thumbnails. Clicking a thumbnail will load and play that video.
1 video
Hanna shares some new and unconventional ways of looking at and interpreting the subject of this small but powerful painting: https://www.nationalgallery.org.uk/stories/unexpected-views-hanna-tuulikki-on-piero-del-pollaiuolos-apollo-and-daphne
About the artist
Hanna Tuulikki is a British-Finnish artist, composer and performer based in Scotland. Her multi-disciplinary projects investigate the ways in which the body communicates beyond and before words, to tell stories through imitation, vocalisation and gesture.
With a largely place-responsive process, she considers how bodily relationships and folk histories are encoded within specific environments, ecologies and places.
In her work, she often draws on embodied vernacular knowledges, in particular, practices of vocal and gestural mimesis of the more-than-human, to offer alternative approaches to making kin, both with one other, and across multi-species entanglements.
Her most recent work engages with vital questions about what it means to live on a damaged planet, proposing contemporary, queer ritual, as a means to process the trauma that comes with ecological awareness.
Harold Offeh on Botticelli's 'Venus and Mars'
Offeh chats to curator Priyesh Mistry about Botticelli's iconic painting in relation to his own artistic practise.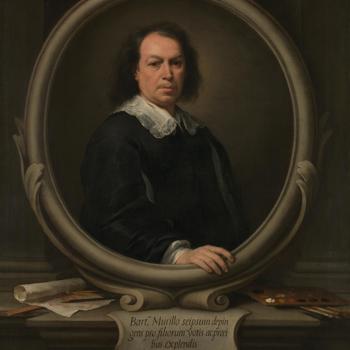 Andy Holden on Murillo's 'Self Portrait'
Take a journey through artist and musician Andy's reflections on self image, illusion, meta-painting and cartoon realities... all in connection to Murillo's 'Self Portrait'.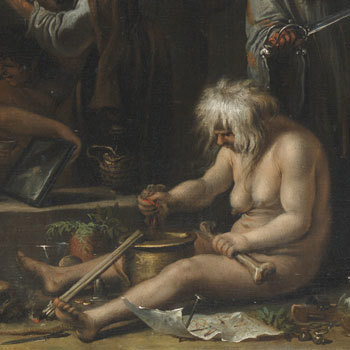 Cécile B. Evans on Salvator Rosa's 'Witches at their Incantations'
Evans draws a comparison between the themes of their own work and those of Salvator Rosa with curator Daniel Herrmann