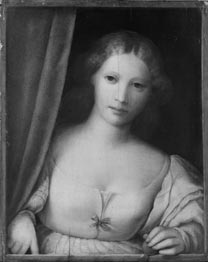 Scholars had already changed their minds about the Italian Renaissance painting 'Woman at a Window' several times. Was it a portrait by Palma Vecchio, showing the artist's daughter? Or even a painting by Lorenzo Lotto? In 1978 a routine restoration revealed a secret lying underneath the paint.
Suspected damages to the underlayer in the woman's brown hair prompted further investigation. But as the subsequent conservation report found, this was not a damaged underlayer at all. It was the original painting.
A dramatic transformation
It was now clear that 'Woman at a Window' had been covered with a later repainting. Conservators removed the repainting stage by stage, revealing a woman with a radically altered appearance. Far from being a demure brunette, she was a seductive blonde.
Her jawline had been softened, her breasts more discreetly veiled, and even her eyes had lost their sultry edge.
The painting that was revealed was hardly a likely portrait of an artist's daughter. (It might even be a courtesan.) Nor does the painting look much like a work by Palma Vecchio. It is now attributed to an unknown Italian artist.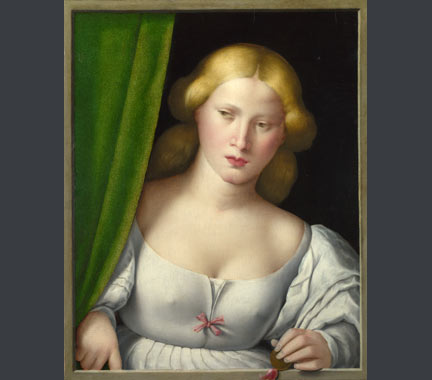 Victorian tastes
The most likely explanation for the dramatic and rather prudish alterations? The painting had fallen victim to later tastes. Knowing the highly conservative fashions of the day, it seems likely that this happened during the Victorian era. This is supported by the conservation report. The repainting could be removed from the canvas easily, showing that it had to have been done relatively recently.
It is possible that the painting was changed when it first came to the Gallery in 1855 – this cannot be ruled out. However, it seems more likely that the woman was painted over before the work entered the collection. Not all Victorian gentlemen preferred blondes: after the make-over she would have been far more attractive to the art market of the day.
Read more about the research on Woman at a Window.