Sir Henry Raeburn 'The Archers', about 1789–90
In this double portrait, Sir Henry Raeburn uses pronounced contrasts in light and composition to show two brothers engaged in a fashionable pursuit.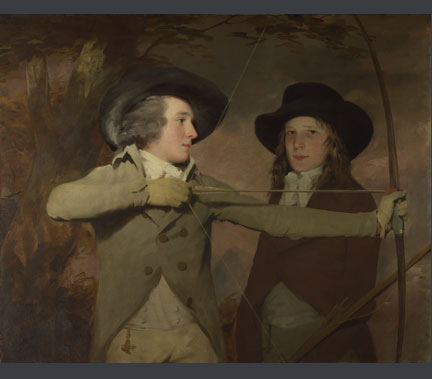 Robert Fergusson of Raith in Scotland is on the left, his face brightly illuminated. He is pulling back the string of his bow, about to loose an arrow at an unknown target. His brother, Ronald, in a brown coat, stands entirely within a pale shadow, framed by his brother's bow, arrow, and string.
Raeburn was the leading portraitist in Scotland in the late 18th and early 19th century, and this work shows him revelling in taking risks with lighting, gesture, and arrangement. The depiction of Robert's face in profile would have been considered very daring for its time, as sitters felt that this did not allow for an accurate likeness. Similarly, Raeburn's use of direct light and shadows was considered novel in portraiture of this period. Yet it is the fusion of light and shade that creates the sense of intimacy between the brothers as well as between the sitters and the viewer.
Archery was a fashionable sport in this period. Both brothers were members of the Royal Company of Archers, the leading elite sporting society in Scotland. Raeburn was also a member, and painted many others in the Company who were drawn from the Scottish aristocracy, landed gentry, and mercantile class. Archery was seen as masculine, meritocratic, and knowledge-based – the very epitome of the Enlightenment.
According to family tradition it is the younger brother Ronald who is aiming the bow, while the older brother, Robert looks at the viewer. It is not possible to tell from their postures, or expressions, which is the dominant figure. Perhaps it is the lack of hierarchy that makes these very different looking brothers seem so close?
Painting
Sir Henry Raeburn
about 1789-90