Joseph Mallord William Turner, 'The Fighting Temeraire', 1839
Turner was in his 60s when The Fighting Temeraire was exhibited at the Royal Academy in 1839 and it proved to be a popular and critical success. But despite the accolades that the work received, Turner never sold the painting.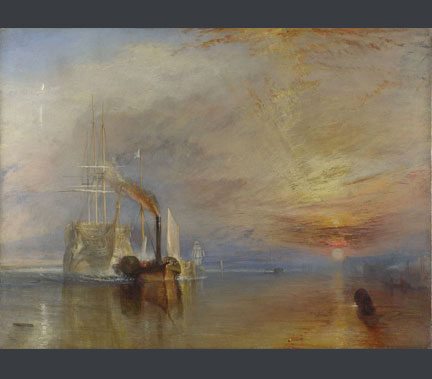 The 98-gun ship 'Temeraire' had seen action at the Battle of Trafalgar where it was almost constantly under heavy fire. Nevertheless, it captured two French ships and saved Admiral Nelson's ship, the 'Victory', from being boarded. She could be said to have been a 'hero' of Trafalgar.
Turner shows her at the end of her life, being towed by a steam tug to a wrecking yard. The 'Temeraire' is a ghostly pale colour and she is riding high on the water in stark contrast to the dark, workaday steam tug which is pulling her. Smoke from the tug's funnel blows over the 'Temeraire's' masts while its reflection in the water is almost a mirror of the 'Temeraire' behind it. Above the ship is the moon, high in the sky in contrast to the glorious reds, yellows, and purples of the sun. Turner has painted the sun with wonderful, expressive strokes; the paint applied in thick layers on the canvas. As the 'Temeraire' travels to her final resting place, the sun sets for a final time on the ship.
It is said that Turner saw the final journey of the 'Temeraire' and was moved to record it, although there is no evidence that this was the case and it is unlikely that he witnessed the ship's end. However, the artist, an ardent patriot, intends to engage the viewer emotionally with the event, and feel the sadness and loss that he, no doubt, felt at the destruction of the distinguished ship.
Painting
Joseph Mallord William Turner
1839