Titian's 'poesie' in Britain
Of Titian's six great 'poesie' for Philip II of Spain, only two remained in Madrid, Spain: Danaë receiving the Golden Rain and Venus and Adonis [external links]. The other four, Perseus and Andromeda, Europa [external links], Diana and Callisto and Diana and Actaeon, plus the unfinished The Death of Actaeon, passed by different routes into the collection of Philippe, Duc d'Orléans (1674–1723). When this collection was auctioned in London in 1798, the five 'poesie' were divided but remained in British collections throughout the 19th century.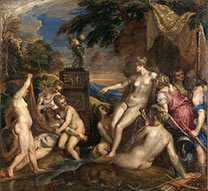 Their outstanding quality inevitably attracted offers from wealthy collectors abroad and in 1896 'Europa' was sold to the Isabella Stewart Gardner Museum in Boston, USA, causing a national outcry. However, 'Perseus and Andromeda' was secured for Britain the following year as part of the Wallace Collection bequest. In 1972, when The Death of Actaeon was offered for sale, the National Gallery successfully purchased the painting with the help of government funds and following a nationwide public appeal. In 2009, the National Gallery and the National Galleries of Scotland jointly acquired Diana and Actaeon, and in 2012, Diana and Callisto, securing the last two of these masterpieces for the public.
Next: 'Poesie' in London