'Poesie' for Philip II
The National Gallery's Diana and Callisto and Diana and Actaeon are two of six 'poesie' Titian painted for Philip II between the years 1551 and 1562. The commission was a turning point in Titian's career. It provided him not only with the scope to experiment and master the female nude seen from various angles, but also to hone his skills in convincingly integrating mythological dramas into landscape settings.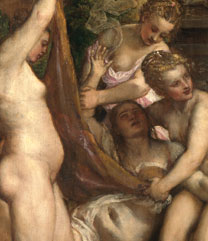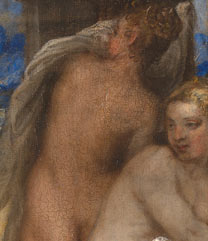 The Spanish king had not specified which incidents from Ovid Titian should depict, so the artist chose the subjects himself: Danaë, Venus and Adonis, Perseus and Andromeda, the rape of Europa, Diana and Callisto and Diana and Actaeon. Shortly after finishing 'Diana and Actaeon', Titian embarked on a sequel for Philip showing the story's tragic conclusion, 'The Death of Actaeon'. Although Titian originally conceived this picture as part of the series, he seems never to have resolved it to his satisfaction and it remained in his studio until his death in 1576.