The painting
There were various types of races, with different numbers of rowers, and even races for women. In this painting, Canaletto depicts part of a one-oared gondola race on the Grand Canal heading north-east from the Volta di Canal to the Rialto Bridge, a portion of which is visible in the distance.
It is at this stage in the race that the gondolas first pass the 'macchina della regatta' (fig. 4), a temporary floating pavilion from which coloured flags were presented to the winners. A highly ornamented structure, the 'macchina' is a wonderful example of Venetian ephemera from this period, and is visible here from the side and adorned with gilt pilasters and columns. Also decorating the arched pediment of the 'macchina' are the arms of Doge Alvise Pisani who ruled from 1735–41; this helps to date the painting to about 1740.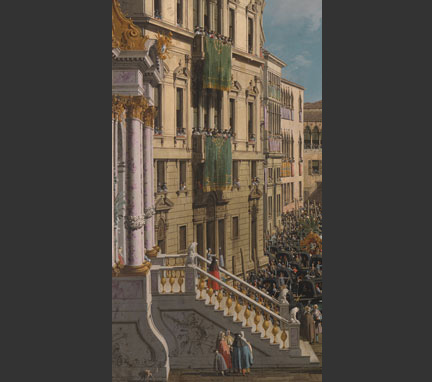 Crowds of enthusiastic spectators cheer from balconies and windows adorned with coloured cloths. Noble families enjoy the spectacle up close from their lavishly decorated boats, such as the ceremonial 'bissone' (fig. 5). These eight- or ten-oared boats, specially decorated for the occasion, allowed their wealthy owners to relax comfortably on silk and velvet cushions as they enjoyed the entertainment.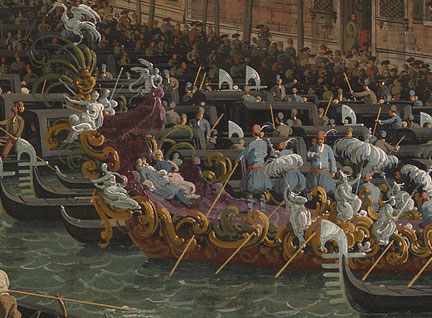 Canaletto's relatively accurate representation allows us to identify many of the buildings along the Canal (see also fig. 6). Second from the right, for example, is the Palazzo Contarini dalle Figure, followed by the Mocenigo palaces, recognisable by the obelisks on the roofs. On the horizon is the pointed spire of the church of San Bartolomeo, demolished in 1747 and replaced in 1754 by the onion-shaped campanile, still visible today. Slightly to the left is the dome of the Basilica of Santi Giovanni e Paolo. Canaletto actually swaps the position of these two churches, probably for aesthetic effect. The buildings on the right bank of the river are cast in shadow, while the left bank is bathed in warm sunlight, suggesting that the event is taking place in the morning.