The painting and its history
Early morning on 19 June 1867 the Emperor of Mexico, Maximilian (1832–1867), was executed alongside two of his generals at Querétaro, north of Mexico City. An Austrian archduke, he had been installed in Mexico as a puppet emperor by Napoleon III of France to succeed the republican president Benito Juárez.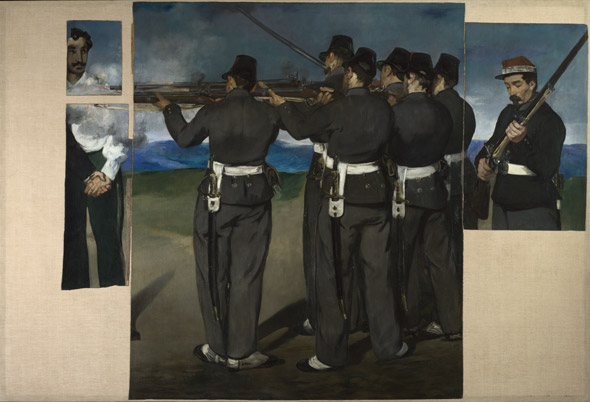 In Manet's painting, an execution squad composed of six Mexican soldiers is depicted in the act of shooting the first victim, General Mejía, originally shown standing to the right of Maximilian, but now lost. An officer, hardly visible behind this central group, has just given the order to fire, as the still raised sword in the upper centre of the canvas indicates. The detached, seemingly unconcerned soldier with the red cap is a non-commissioned officer preparing to execute the 'coup de grâce'. All we see of Maximilian is his left hand clasping that of General Miramón whose stern gaze is directed towards the firing squad.
This monumental painting was in Manet's studio at the time of his death in 1883 but had been considerably damaged through bad storage conditions. The leftmost figure of Mejía and most of Maximilian had probably already been cut off by 1883. Mme Manet's son Léon Leenhoff divided the remaining canvas into four fragments. Sold separately, they were reunited by Edgar Degas (1834–1917) and acquired by the National Gallery in the posthumous Degas sale in 1918. First displayed as separate canvases, the pieces were mounted on to one stretcher in 1992 to suggest the original composition.