Frustrated in Florence
By 1472 Leonardo had joined the brotherhood of Florentine artists, the Compagnia di San Luca. He worked in Florence for the next 10 years, but few paintings survive.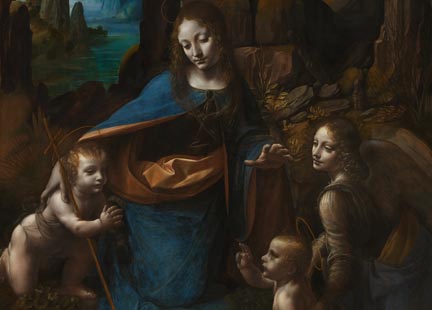 He made numerous drawings, however, which revealed his growing interest in other disciplines, including geometry, anatomy and engineering.
By 1483, Leonardo felt stifled and decided that Milan would offer more exciting opportunities. He wrote to the ruling family, the Sforzas, asking for employment primarily on the grounds that he was an expert in military engineering. He mentioned his skill in painting and sculpture as an added bonus.
Soon after his move to Milan, a confraternity commissioned an altarpiece, and Leonardo created The Virgin of the Rocks. When the confraternity refused to give what he considered a fair price for the painting, he sold it to someone else in disgust and it was some years before the confraternity could persuade him to do a second version - the one that now hangs in the National Gallery.
Next: The notebooks