Return to Antwerp
In 1608, while Rubens was back in Rome, news came that his mother was dying. He left immediately for Antwerp, but by the time he arrived she had died.
Professionally, however, his timing was perfect, and Rubens decided to stay in Antwerp.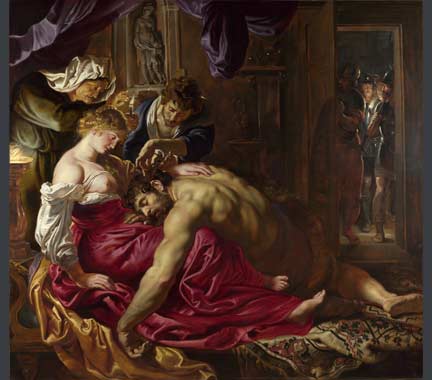 From being a financial and trade centre of the North, Antwerp had lost much of her status and wealth. However the recent return to Catholicism helped fuel a desire to restore the city to something of her former glory.
Churches were being redecorated and a significant amount of new civic and private art and architecture was being commissioned.
Rubens, still only 33, now had an impressive reputation and he began building himself a spectacular house. He painted one of his most famous works, Samson and Delilah, for the powerful Antwerp merchant Nicholas Rockox.
New Beginnings
In 1609 Rubens was appointed court painter to Archduke Albert and his wife Isabella. The same year he married his own Isabella - Isabella Brant.
By now, Rubens's compositions, particularly his groups of figures, were becoming increasingly sophisticated.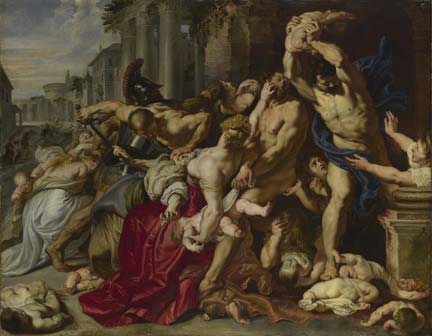 The interlocking bodies in his Massacre of the Innocents from about 1611 is more intricate than anything he had produced previously.
His years of painstaking study had given him a fluency which he continued to develop.
His later paintings continue to borrow from, and be inspired by, the great works of other artists, but his style became increasingly his own.