Spain and Genoa
Rubens's patron, the Duke of Mantua, also sent Rubens on diplomatic missions.
In 1603 he was sent to Spain to take gifts, including a number of paintings, to the King of Spain. It was not a pleasant journey: it rained solidly for 25 days.
Arriving in Madrid, Rubens found that his journey was still not over as the court had moved north to Valladolid.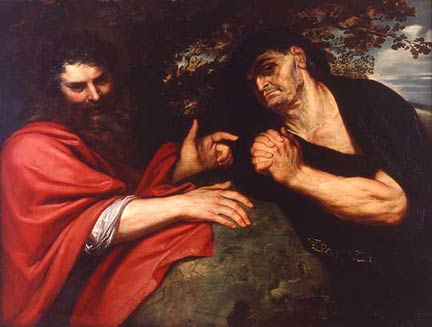 To make matters worse, the rain had soaked the pictures so thoroughly that the paint had swollen up and flaked off.
Two paintings were irrevocably damaged, so Rubens replaced them with one of his own - 'Democlitus and Heraclitus'
The Spanish royal collection contained a number of Italian paintings, including some impressive Titians, giving Rubens further opportunities to make studies.
Genoa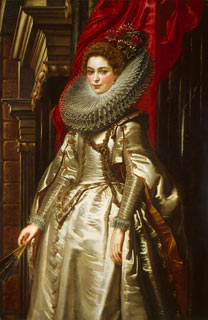 On his way back to Mantua from Spain, Rubens stopped off in Genoa, then a wealthy, independent republic.
Rubens was warmly received and was charged with several commissions - many of them portraits of Genoese aristocrats.
This life-sized portrait of the Marquesa Brigida Spinola Doria from about 1606 is one of his Genoese commissions.
The picture shows the 22 year-old Marquesa in spectacular dress complete with huge ruff. (The ruffs were soon to be banned in Spain in an attempt to curb the excesses of court dress.)
Next: Rome