Milan, Rome and France
In 1499 the French army invaded Milan – Leonardo returned to Florence. He was fascinated by the mystery of the face and by the possibility of reading the 'motions of the soul' through facial expressions and gesture. Leonardo's portrait of the wife of a Florentine official, known as the 'Mona Lisa', is famous for its sitter's enigmatic expression.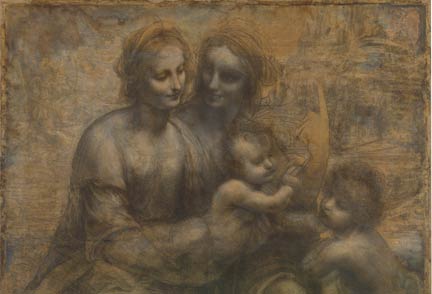 Leonardo soon tired of Florence, however, and by the summer of 1508 he was back in Milan, working for the French rulers of the city. He began work on a series of compositions of the Virgin and Child. Before beginning a painting, he would work out his composition in a drawing. The National Gallery's Burlington House Cartoon is a preparatory work for a painting now in the Louvre, Paris.
Leonardo's second stay in Milan lasted until 1513 and was followed by three years in Rome. At some point during this period he was brought to the attention of the French king and was offered employment as 'first painter and engineer' at the royal court. Leonardo accepted the offer and in 1517 he moved to the Château of Cloux, near Amboise, where he spent the rest of his life.
Next: Final years