British painter J.M.W. Turner (1775-1851) enjoyed a highly successful artistic career. When he died he bequeathed to the nation a large number of his paintings, including 'Dido building Carthage' and 'Sun Rising through Vapour'. These two paintings came with the condition that they should be displayed alongside Claude's 'Landscape with the Marriage of Isaac and Rebecca' and 'Seaport with the Embarkation of the Queen of Sheba' (view paintings).
By linking these paintings together Turner wanted to ensure that his association with the earlier Old Master, Claude, would endure beyond his lifetime. After some of Turner's cousins contested his will, a settlement was reached which, in the end, resulted in a much larger gift of works of art to the nation.
The entire bequest – most of which is now housed in the Clore Gallery at Tate Britain – comprises nearly 300 oil paintings and around 30,000 sketches and watercolours, including 300 sketchbooks.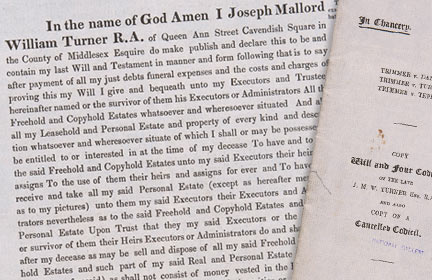 Next: Turner's Will