Explore the repertoire
The Irish-born composer Howard Ferguson was largely responsible for planning the musical programmes at the National Gallery. A close friend and invaluable assistant, he lived a few doors away from Myra Hess on Wildwood Road in Hampstead and often discussed music with her at home or as they drove to Trafalgar Square in the little Austin Seven she had downsized to, to save petrol.
Under Ferguson's stewardship, the mainstay of the National Gallery repertoire was chamber music. Such pieces – written for a small group of instruments to be played in the intimacy of the home – perfectly suited the size and the limited facilities of the makeshift setting.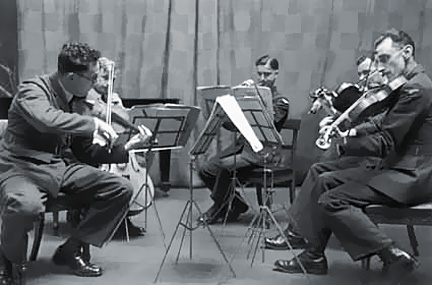 Programmes devoted to a single composer were always the most popular, with Beethoven, Mozart and Bach the biggest draws, and several ambitious series were given, such as the complete chamber works of Beethoven and Brahms; the Bach Forty-eight Preludes and Fugues and Brandenburg Concertos; and the twenty-one Mozart Piano Concertos, played by Myra Hess herself.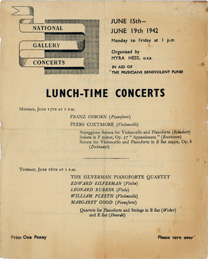 The frequency of performances – five days a week, every week – meant there was room for little-known as well as more famous works in the programme. In the category of little-known, Howard Ferguson noted the inclusion of Mozart and Beethoven's Wind Serenades, Schütz's 'Christmas Oratorio', Bach's 'Art of Fugue' and 'Musical Offering', and the Church Sonatas of Mozart.
Contemporary music received less attention, with overtly 'modern' pieces by composers such as Stravinsky rarely featuring in the programme. 'We find what audiences want is the music of Beethoven, Mozart, Bach, Brahms,' Myra Hess commented, 'They do not want to sit forward and grapple with new works, but to sit back and listen to the great music that they know.'
That much of this 'great music' was German in origin says much about the ethos of the concerts and their organiser – who came herself from Jewish stock.
Jon Amis, Myra Hess's friend and page turner
'No one will want to hear a German sing German songs.'
Transcription
Transcript
Jon Amis: You probably know that story, that she was due to do a recital of German Lieder on the day and Holland was invaded by Germany. And she rang up and said 'Myra' – this is Myra imitating Emily – 'I cannot sing today, nobody will want to hear a German singing German songs'. And Myra persuaded her, she said 'I think if you come, and you must come, please, you will find the audience will be very sympathetic'.
And the audience – and it was most touching, I can almost cry at the moment – the audience stood up and cheered her and applauded her for about five minutes, and she was in tears too, we were all in tears, it was just wonderful.
Find out more about the repertoire of the Myra Hess concerts

Next: Meet the musicians