Friends and family remember
Myra Hess's friends and family remember her as a loyal and funny woman who always had time for others despite her unwavering commitment to her art. On stage, she was a model of dignity and composure.
But once the performance was over, she would relax, often treating her friends to an array of parlour tricks that included playing the piano upside down or with an orange tucked under one hand.
Myra was much-loved for her earthy sense of humour, her ear for accents, and her range of impressions, which included an imitation of Queen Victoria for which she wore a lace doily and a dour expression.
Libbie Foster on aunt Myra
Transcript
Libbie Foster: If she hadn't loved her music so much she would have loved a family, and my brother and I, she sort of took on as surrogate children. She was a wonderful, fun aunt to be with. She would play games with us, crawling-on-the-floor sort of games, when we were little obviously, but then as we got older, card games. She was an inveterate card player.
She would make funny faces with us. Have you ever made orange-peel teeth? You cut up an orange, take the peel off and turn the peel inside out, and then make it into teeth, put it in your mouth, and they are called orange-peel teeth. She was really wicked, she would do that, put them in and if we had visitors coming she would go and answer the door with these teeth in. Well, of course as children we thought this was absolutely wonderful, and the visitors who were coming were expecting Aunty Myra to be staid and serious, and she wasn't at all. But there was never any 'treat me with respect because I am a great concert pianist'. It couldn't have been further from the thoughts of anybody.
In fact, when I was working in London, a girl in my office came to me one day and said 'I had overheard somebody saying in conservation that you have an aunt who's a dame', and I said 'yes, that's right' and she said 'how wonderful, a dame in a pantomime'. And I said, 'yes it is wonderful, isn't it?' and didn't explain to her. Aunty Myra would have loved that, she wouldn't have thought that was anything anybody shouldn't have said. She would have laughed at that, she had a wonderful belly laugh.
Read more recollections of Myra Hess from her friends and family
Libbie Foster (neé Hess)
Libbie Foster remembers her aunt Myra visiting and remembers how down to earth she was: 'She'd play games with us, crawling on the floor and then as we got older, she was an inveterate card player.'
Actress Joyce Grenfell
Actress and writer Joyce Grenfell: 'Myra played scrabble with the malice aforethought of a Russian chess champion and was very hard to beat. She even hissed a little in a villainous way as she planned her next relentless move.'
Nigel Hess on great aunt Myra
Transcript
Nigel Hess: I met her a couple of times although we didn't live in London when I was a child, we lived down in the West Country, and she died when I was 12. So there wasn't a huge amount of crossover, which I've always regretted because I'm the only person in the family that has gone into music professionally after her, and it's always been a regret of mine that we never knew each other better.
But I met her a couple of times and she used to write to me too, and of course when I was doing Eisteddfods in Wales and festivals when I was very, very young, she always used to write and say that she was thrilled to hear that there was another pianist in the family, you know. We came up to London a couple of times and we saw her, and I remember going to her house in St John's Wood where she lived for the last… that was her last house. She was great, she was quite frail by the time I met her. I remember playing the piano to her, 'cause she had two Steinway Concert Grands in the living room, on either side of the living room, which had been given to her by Steinways, which by the time I met her she could hardly play at all because of the awful arthritis. So I sat down and played a piece to her, it was not a classical piece I think and I shudder to think of it now. It was a thing that was in the charts at the time called 'Walk in the Black Forest' or something, 'cause I really liked it. I don't think she knew – she said I made a nice noise so that was okay, I cherish that.
There were two things I remember about her house. The first was because it backed onto Lord's Cricket Ground; she actually said to me she loved living there because when she heard the applause at the end of each cricket over it reminded her of the applause she used to get in her concerts. So she loved listening to the applause of the crowd.
The other thing I remember is the shape of the lawn. I had only been there about an hour and I remember looking out of the window, and thinking, 'the lawn is in the shape of a grand-piano lid' and it was actually cut out. It was her one little bit of campery in the house. She never pointed it out to anybody but obviously it was designed to look like the top of a grand piano. She was a great joker so that was probably one of her little twinkle-in-the-eye moments.
Read more recollections of Myra Hess from her friends and family
Nigel Hess
Nigel Hess, a professional musician, met his great aunt Myra several times and recalls her sense of humour: 'The lawn was in the shape of a grand piano lid .. She was a great joker.'
Pianist Irene Scharrer
Childhood friend and fellow pianist Irene Scharrer: 'Each of us could always rely on the other in any emergency. So I was never surprised during the war years when Myra would telephone a last-minute SOS: 'My darling, could you possibly play with me at the Gallery today? So-and-so is ill, and I'm in despair.'
'Once, when the casualty happened to be a man, Myra made a little speech to the audience when we went on the platform, and I suddenly heard her thanking me for coming at such short notice, and for so kindly stepping into Mr So-and-so's breeches. Realising what she had said, she doubled up with laughter and the whole audience was in uproar.'
Diplomat Sir Paul Mason
Diplomat Sir Paul Mason: 'Her serenity was invigorating, not disarming. You did not go to her to be soothed but to be braced.'
Childhood friend, Clare Mackail
Childhood friend, Clare Mackail: 'Although she was the recipient of innumerable joys, sorrows, burdens or problems, she always seemed to have time to listen and to share them. Again and again she was the first to be beside someone in need, even though her engagement book was full, and there might be a train to catch; and again and again it was she who went on caring far beyond the normal limits of human sympathy and help.'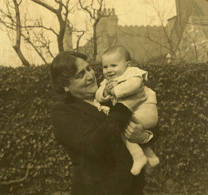 Arts administrator, Sir Steuart Wilson
Arts administrator, Sir Steuart Wilson: 'Myra was at all times and especially in our youth, the greatest fun and amusing company. One of her special parlour tricks was her pose as Queen Victoria with a lace-edge handkerchief as a widow's cap. Once, it is said, that she and Harold Samuel were discovered prone on the lid of a grand piano to see if they could play duets upside down!'
Next: More about Myra