Lady Gater's canteen
Music was not the National Gallery's only attraction during the war; it was also famous for its food. Set up and staffed by volunteers, the Gallery's canteen was opened in November 1939, less than a month after the beginning of the concerts.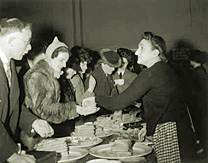 It was the brainchild of an audience member at the first performance, Lady Irene Gater. As she sat on the floor listening to Myra Hess play, Lady Gater realised how hungry she was and decided to start a food counter for those 'men and women who are as hungry for a meal as they are for good music and have very little spare time for either'.
Lady Gater's suggestion received a delighted response from the Gallery's Director, Sir Kenneth Clark. Audience members had been invited to bring their own lunches by the concerts team, who were keen to emphasise the informality of the events. But the open house policy had created an unwelcome side-effect, for as Howard Ferguson, the composer, wrote later, the rustling of sandwich paper was often so loud that it threatened to drown the music.
With her proposal accepted, Lady Gater made her preparations. A counter was built in the Gallery's Tuscan Room, where visitors could stand and eat their lunch as they listened to the music, and on 2 November 1939, the sandwich bar opened to the public.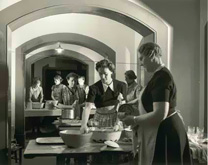 It was staffed by a team of volunteers, who wore rubber-soled shoes to avoid making any noise and included the writer and actress, Joyce Grenfell. 'We made sandwiches that became justly famous for being complementary to the music,' she later reported. 'Special favourites were honey and raisin in fresh brown bread; cream cheese and date; ham and chutney; and there were generous slices of good damp station cake, as well as strong coffee.'
The counter was a success and in 1940 a second canteen was opened downstairs to provide hot meals for war workers and members of the armed forces. Lady Gater and her team of helpers staffed both. She nicknamed her team 'amateur nippies' after the waitresses at Lyons' tea shops, famous for their speed.
By the time the two venues closed in July 1945, they had raised over £45,000 for wartime charities. After the war, Lady Gater was awarded an MBE for her charity work.
Next: Noises off