Deciding what to collect
Initially, the Gallery had no formal collection policy, and new pictures were acquired according to the personal tastes of the Trustees. By the 1850s the Trustees were being criticised for neglecting to purchase works of the earlier Italian Schools, then known as the Primitives.
Following the reform of Gallery administration in 1855, the new Director travelled throughout Europe to purchase works for the Gallery. In the 10 years that he was Director, Sir Charles Eastlake ensured that the Gallery's collection of Italian painting expanded and widened in scope to become one of the best in the world.
Eastlake's purchases included Botticelli's Adoration of the Kings and Uccello's, The Battle of San Romano.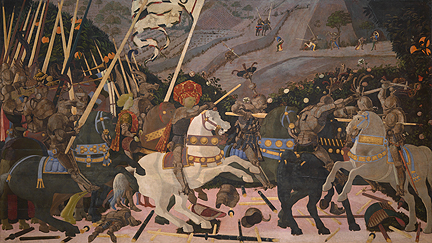 In 1871 the Gallery's collection was broadened yet further, when 77 paintings were bought from the collection of the late Prime Minister, Sir Robert Peel. These consisted mainly of Dutch and Flemish paintings, and included Hobbema's The Avenue at Middleharnis.
Next: The Turner Bequest
Painting
Sandro Botticelli and Filippino Lippi
about 1470
Painting
Meindert Hobbema
1689