14 July 2010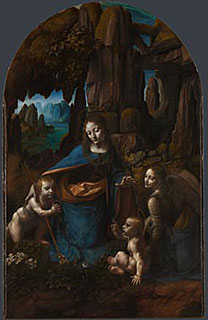 Leonardo da Vinci's masterpiece The Virgin of the Rocks is back on display after 18 months of specialist conservation work.
The painting had been covered with a layer of badly discoloured varnish from the late 1940s. Following expert cleaning, the painting has been restored to its former glory.
Researching the 'Virgin of the Rocks'
The restoration was carried out by the new Director of Conservation at the Gallery, Larry Keith, working with the picture's curator Luke Syson, and the Scientific Department, under the direction of Ashok Roy.
The conservation work is the product of collaboration between generations of scientists, conservators and curators – assisted by expert advice from institutions across the world. Understanding more about the techniques of Leonardo and his followers has helped to ensure that the restoration brings the painting closer to the artist's original intentions.
After cleaning, a much greater appreciation of the painting's full tonal range has become possible, especially in the darker areas. The cleaning adds to years of research into this painting, including the discovery in 2005 of a hidden underdrawing. Gallery experts have now learnt even more about the way Leonardo worked. Their full findings will be published online in the National Gallery Technical Bulletin in September 2011.
The new frame
In addition to the cleaning, the painting is now displayed in a newly built frame. This new piece incorporates fragments from a north Italian frame from around the time of Leonardo. Cleaned and framed in this way, the sculptural qualities of the painting can be appreciated afresh.
'The Virgin of the Rocks' is on display in Room 2 of the Gallery.