Take One background
Take One has its roots in two flagship National Gallery programmes: Take One Picture and the Initial Teacher Education Cultural Placement Programme.
Take One Picture
Take One Picture empowers thousands of teachers in schools across the UK each year to use a National Gallery painting as a rich and supportive context for learning. The creative work that pupils produce is showcased in an annual display at the National Gallery.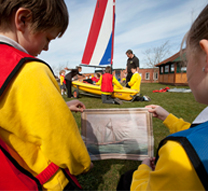 Initial Teacher Education
The National Gallery's Initial Teacher Education Cultural Placement Programme provides opportunities for trainee teachers to immerse themselves in the Take One Picture methodology and apply it with pupils at local museums.
Take One
In 2009 the National Gallery and the Museums, Libraries and Archives Council (MLA) developed Take One with the help of regional museums and archives around the country.
The aim: to create a regional version of the successful Take One Picture programme, broadening it out to use paintings and objects from museums, galleries, archives and historic sites.
Pilot projects were run in the South West, East Midlands and London. Funding for the pilot came from the Department for Culture, Media and Sport and the Department for Education's Strategic Commissioning Programme.
Rolling it out nationwide
In 2010 the National Gallery and MLA worked closely with 12 champion cultural organisations to set up Take One projects across all English regions.
During its initial 18 months 5,000 pupils from around 90 schools have got involved in projects delivered by 37 museums, galleries, archives and historic sites. See the case studies.
Next: Evaluating Take One