Your Gallery session
All sessions take place in the Gallery and are led by experienced Gallery Educators. Their aim is to help you and your students engage and respond to the collection of Western European paintings which date from the Middle Ages to the early 20th century.
You will normally be shown between three and five paintings during the hour-long session. This may seem a small number but we want young people to leave the Gallery having enjoyed the process of looking at a few paintings, which they will remember.
Your Gallery Educator will meet you at the Pigott Education Centre entrance and take you back there at the end.
Booking queries
Bookings can only be made via email. To request a booking form, please email schoolbookings@ng-london.org.uk at least six weeks (and up to one term) in advance.
If you have a query about your booking or you need to cancel, phone 020 7747 2424 or email schoolbookings@ng-london.org.uk.
Pre-visit information
We look forward to welcoming you to the National Gallery. In order to get the most from your visit please read the following information.
Arrival and entrances
Booked school groups should use the Pigott Education Centre entrance at the back of the Gallery, in Orange Street.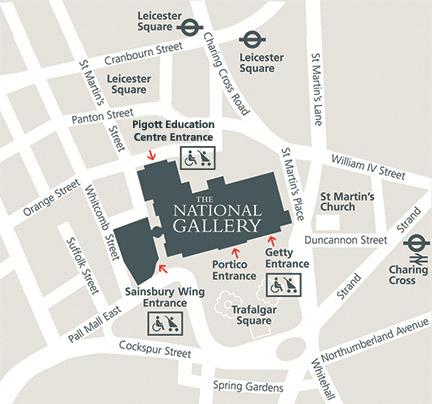 If you arrive late on the day of your visit, please telephone us on 020 7747 2424. Please plan to arrive about 15 minutes before the time your talk is due to start. If you arrive late, your Gallery Educator may not be able to offer you a full hour's talk. If you arrive much earlier than your booked time, please use the Getty Entrance as the Pigott Education Centre may not be able to accommodate you until your booked slot.
Cloakrooms
Please be aware that at busy times, the Pigott Education Centre cloakroom is only available for the duration of your booked school visit.
On arrival each school is assigned a colour-coded section to store coats and bags.
Please do not leave valuables in the cloakroom. Students using the cloakroom must be accompanied by an adult. 
Lunch rooms
Bookings are for 30 minutes. If your group is small you may be asked to share with another group.  Ensure you leave in time for the next group to start their lunch punctually and leave the room clean and tidy. Cleaning materials are provided.
Toilets
Please note, the toilets in the Pigott Education Centre are public toilets and therefore not solely for the use of our school groups. Please ensure that you bear this in mind when attending with a school group.
Female toilets are on the ground floor, male toilets are on the first (main) floor. Boys under seven may use the female toilets if you have no male adult with you.
There are limited numbers of toilets so please allow sufficient time if you are taking a large group.
In the Gallery
Gallery rules
Teachers and adult helpers are responsible for their students at all times and must stay with their group
Do not touch the paintings or get too close
You may use pencils and felt tips for drawing but not wax crayons, pastels or ink pens
Mobile phones must be switched to silent
If you arrive early or if you want to stay on after your talk, you are more than welcome to do so. We recommend you divide the class into small groups. Please be advised not to assume you will be able to see a particular painting, as they are sometimes moved off display at short notice, and please remember that National Gallery Educators take precedence, so avoid rooms where other school and adult groups are being taught.
Pre-visit information for schools

Download health and safety informative for schools leaflet 
Contact us
Telephone: 020 7747 2424 (option 1)
Email: schoolbookings@ng-london.org.uk
---

Problems opening files? Get Adobe Reader [External link]