Come and explore the National Gallery Collection with your school, where a team of skilled freelance Gallery educators will help you to get more from your visit.
Catering for pupils aged 4 to 18, our fun, interactive Gallery sessions aim to bring the paintings alive to all children by facilitating them to make connections: to look, think and imagine.
Making a booking
To discuss your requirements and to make a booking for a facilitated visit, please call 020 7747 2424 at least six weeks (and up to one term) in advance.
During busy periods you may need to leave a message. Please be patient and be assured that we will return your call by the end of the following working day.
When you ring to book please have the following information to hand:
Name and postcode of school
Number of pupils
Year group(s)
Details of any special educational needs
Choice of theme
Preferred dates and time for visit
Contact name, email address and telephone number
Sandwich rooms are available to book on request in 30-minute slots.
You will receive an email confirmation as soon as your booking has been made. Please check the details carefully.
We will charge a fee if you give less than 28 days' notice of a cancellation, or if you fail to turn up.
Visiting a charging exhibition
If you wish to bring a school group to one of our charging exhibitions, please email enquiries@groupline.com or call +44 (0)207 420 9700 to book tickets.
See our full list of exhibitions.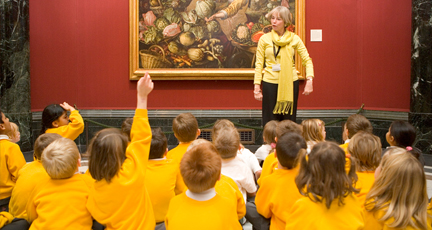 More about your visit
To support you in preparing for your visit, links to the Gallery's Health and Safety Policy and Pre-Visit information will be provided in the confirmation email.

We require that each class must be accompanied by their teacher and at least one other adult at all times. The National Gallery guidelines for visits of this kind are the following:
| | |
| --- | --- |
| Age of pupils | Adult : Pupil ratio |
| Early Years Foundation Stage (3–5 years old)      | 1:6 |
| Key Stages 1–2 (5–11 years old) | 1:10 |
| Key Stages 3–5 (11–18 years old) | 1:15 |






Please note that teachers are responsible for the behaviour of their group at all times during their visit. Please read the guidelines in the pre-visit information and ensure that they have been shared with all accompanying adults.
Tips on planning a visit
Book up to a term in advance
Have alternative dates ready when you phone
Have your school office email address to hand 
Book a sandwich room at the Gallery for lunch
Book your Gallery session before you book transport
Consider combining your trip with a visit to a nearby attraction such as St James's Park
Generously supported by