Ten schools visited the National Gallery to take inspiration from the painting Diana and Actaeon for work in design and technology, drama, English, geography, ICT, music, PE and science.
Langdon School, Year 7
Art and English: In English, students created story boards for a narrative, then fleshed the story out through storytelling. In art, students created a backdrop for a performance – an abstract collage.
ICT and music: Students used ICT kit to film their performance, working with sound and moving images. In music lessons, they composed a song to tell the story of 'Diana and Actaeon'.
PE, design and technology: In PE, students choreographed movements for the characters in the painting. Props for the performance were created in design and technology.
As a final piece of work, the students filmed a performance: a comedy caper chase around the school. Students then presented the film at assemblies.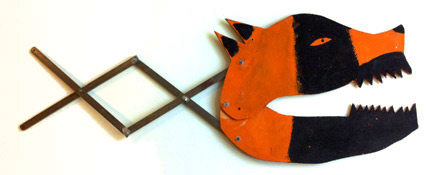 What students said:
"Normally if we're doing one subject, say English, we're just learning one thing, like storytelling or poetry. But as we're doing many lessons, each teacher's explaining why it's happening in the story, what it's for, so we understand more as we go through the days."
Ibstock Place School, Year 8
Art, dance and drama: Students translated the bathing scene from 'Diana and Actaeon' into a modern-day setting: a sports changing room, casting Diana as team captain, the nymphs as players, the handmaiden as physiotherapist and Actaeon as paparazzo.
Art: Students created a collage of their contemporary scene, mood boards for each character and clay models for an animation.
Dance: Through close co-operation between the art teacher and dance teacher, students interpreted the different characters and the event through movement. They filmed their performance.
English: Students used their experiences of the project to write a range of material:
A diary of Diana's day
An information leaflet about the painting and its narrative
An advertisement for the National Gallery
A traditional or contemporary playscript of the events depicted
What the students said:
"You learn a lot more if you have fun. I like forming my own views. When we sit in normal lessons, it's copying out of textbooks. I think it's opened up my way of thinking."
Hillview School for Girls, Year 8 
Art and ICT: Students produced a video animation of the story of 'Diana and Actaeon'. Students learnt to use editing software to produce their film.
Geography: Students looked at globalisation, comparing modern and historic trade, focusing on the origins of paint and pigments used by Titian in 'Diana and Actaeon'.
English: Students used themes from the painting to create narratives.
Science: Students converted the school's science lab into an art studio to design the perfect predator, exploring the predator-prey relationship of Actaeon's hounds.
Extra-curricular: The project triggered extra-curricular interest – sixth-form students from the school's cinema club helped Year 8 pupils make short films.

What the students said:
"It's a lot more interesting, we're exploring different things. We're a lot more focused and can actually get on with it. We definitely feel it's a really good thing to do. We've learnt a lot, it's a different way of learning."
Central Foundation Boys' School
English: Students focused on the different senses and perspectives of the people depicted in the painting. As a group, the students created a 'flip' book with sections that could be flipped back and forth to read the story in any order.
Art and drama: In drama, students acted out and filmed the scene from the painting. In art, students created an animation with clay models, using videos from the drama class.
For a second drama activity, students devised their own version of a TV talk show, 'The Jeremy Kyle Show', exploring the emotional and physical aspects of characters from the painting and from other Greek myths. 

What the students said:
"Its good to do different things because then you understand more and you feel like you're doing something really good and creative."