Take one: photo
The school's chosen object was a black and white photo from the 1880s, showing a crowd of women and children on a beach watching a boat – possibly a lifeboat – being launched.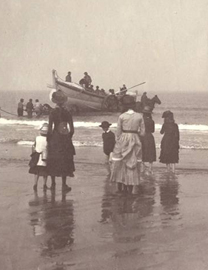 This photo was taken in the 1880s by Edward Backhouse Mounsey from Darlington, a keen photographer. The location is possibly Seaton Carew, County Durham.
A teacher from Marden High School attended a training day run by the Learning Arc, a partnership of archives in the North East. The pupils that took part had all been supported by the inclusion department.
An animation
The aim was to create an animation. The group began by imagining what was happening in the photo.
Pupils were given a series of questions: 'Do the people look happy?' 'What is happening in the other boat in the distance?' The pupils then worked in pairs to create their own stories.
The pupils' stories included explorers setting sail to discover whether the world was flat and sailing to the boat in the distance only to find that it was a pirate ship. The stories were then edited for animation.
The pupils made their own plasticine models and practised animation techniques, helping them to learn how to manipulate the models and make them look like they were moving.
The pupils used props and created settings to make their scenes. They added sound effects, a soundtrack and titles.
The work was celebrated within the school and is also on display at www.learningarc.org.uk [external link]
Pupil benefits
Before the project, pupils often found it difficult to write stories as they struggled with spelling. As the project used a photograph as a visual stimulus and used animation as a way of storytelling, the pupils learnt how to plan and structure their stories without having to write.
'It has improved the children's understanding, empathy and observational skills. It is a brilliant project and we will be using the idea again next year.'

– Teacher, New Delaval Primary School, Tyne and Wear
Image above: 1880s beach scene, possibly Seaton Carew, County Durham, by Edward Backhouse Mounsey from Darlington. Reproduced by permission of the Durham County Record Office (DCRO Ref: D/X 1667/7/32)