The Tower's famous prisoners
The focus for the project was the Beauchamp Tower, which housed high profile prisoners during the 16th and 17th centuries, during a period of religious and political upheaval.
After a teacher training day at the Tower of London, 10 schools ran a Take One project, involving 19 classes of Key Stage 1 and Key Stage 2.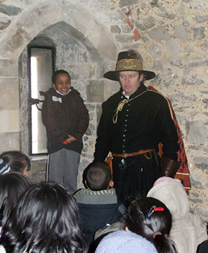 Historic Royal Palaces also worked with two extended schools attached to two local primary schools. These students and their families took part in workshops.
Each class benefited from a free visit, including a special one-hour Take One workshop, led by a costumed presenter. The totally immersive nature of this experience was highly valued by participating teachers.
Awe and wonder
To heighten the students' sense of anticipation, teachers were encouraged to wait until partway through their project to bring their classes to the Tower of London. This made the children incredibly excited to visit 'their' tower (the Beauchamp Tower) and teachers noted their 'awe and wonder'.
What the teachers said
Teachers reported that the Take One model of teaching and the visit to the Tower of London had excellent outcomes in the classroom:
Pupils with special educational needs especially benefited from the project
Creative writing produced by low ability students was their best work ever
The project developed the students' self-confidence and belief in their ability to produce creative writing of a very high standard 
Image above: School visit to the Tower of London