Take One: trainer
Northampton Museum has a large footwear collection, including a 1980s designer trainer: an Adidas Metro Attitude in yellow and purple with lizard skin. This trainer was chosen to appeal to young people: it was very effective in sparking pupils' imaginations.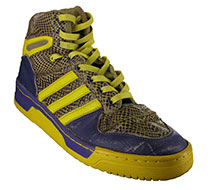 Inspired by the museum's designer sports shoe, the pupils created their own giant trainer as an artwork. They chose an animal print pattern so they could show off their work at a local animal-themed carnival.
The pupils got professional help from a Midlands-based carnival arts organiser.
Collaborative learning
Pupils were set a brief and developed their own design ideas for all aspects of the project. They created giant puppets of animals and a ringmaster, as well as T-shirts and hats.
A choreographer and musician taught them carnival dances and samba drumming.
The project culminated in a carnival procession at the beginning of the school's sports day and an assembly performance. The activities were written up by ICT pupils and featured in a school newsletter.
From drama to textiles
The project was led by the Head of Art and involved the whole art department and teachers of drama, media, ICT, textiles, German, dance and English.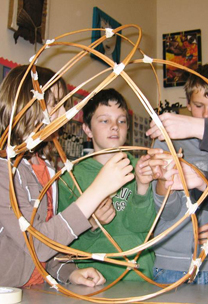 Textiles students made sock puppets. In ICT students used Photoshop to create colourful images. The English department encouraged students to write poetry and foreign language students filmed their own adverts for trainers in German.
Benefits to pupils
The pupils learned a range of new skills, including:
Developing team-working skills by learning to listen to other people
Learning how to communicate their own ideas
Working with a range of new people
The pupils enjoyed working together, they liked choosing which activity to take part in and were taught in a fun way outside the classroom.
'I learnt Samba drumming, and then found I could teach these new skills afterwards.' – pupil, Wollaston School, Northamptonshire
'Take One gets the whole year involved – it was like bringing a big family together' – teacher, Wollaston School, Northamptonshire
Image above: Giant trainer made by Wollaston School