A king from Africa
It's Balthasar's voice that sets the scene for our journey. He's one of the Three Kings who travelled to Bethlehem to visit the newborn Jesus bringing gifts of gold, frankincense and myrrh. He is Black, reflecting the resurgence by around 1500 of a tradition - dating back to the early days of Christianity - of including an African king.
The Three Kings were often represented as rulers of each of the major parts of the world known at the time, Europe, Asia and Africa, emphasising the global reach of the Christian religion. We don't know the exact reason for the resurgence of this tradition, but it is likely that a significant factor was the growing presence of Black people in Europe at this time, most of whom were enslaved. The centre of the slave trade with Africa was Lisbon in Portugal, and there were strong links between Lisbon and the Low Countries, where Gossaert worked. However, it is also possible that such representations were influenced by diplomatic visits to Europe made by Christian ambassadors and rulers from Africa in this period.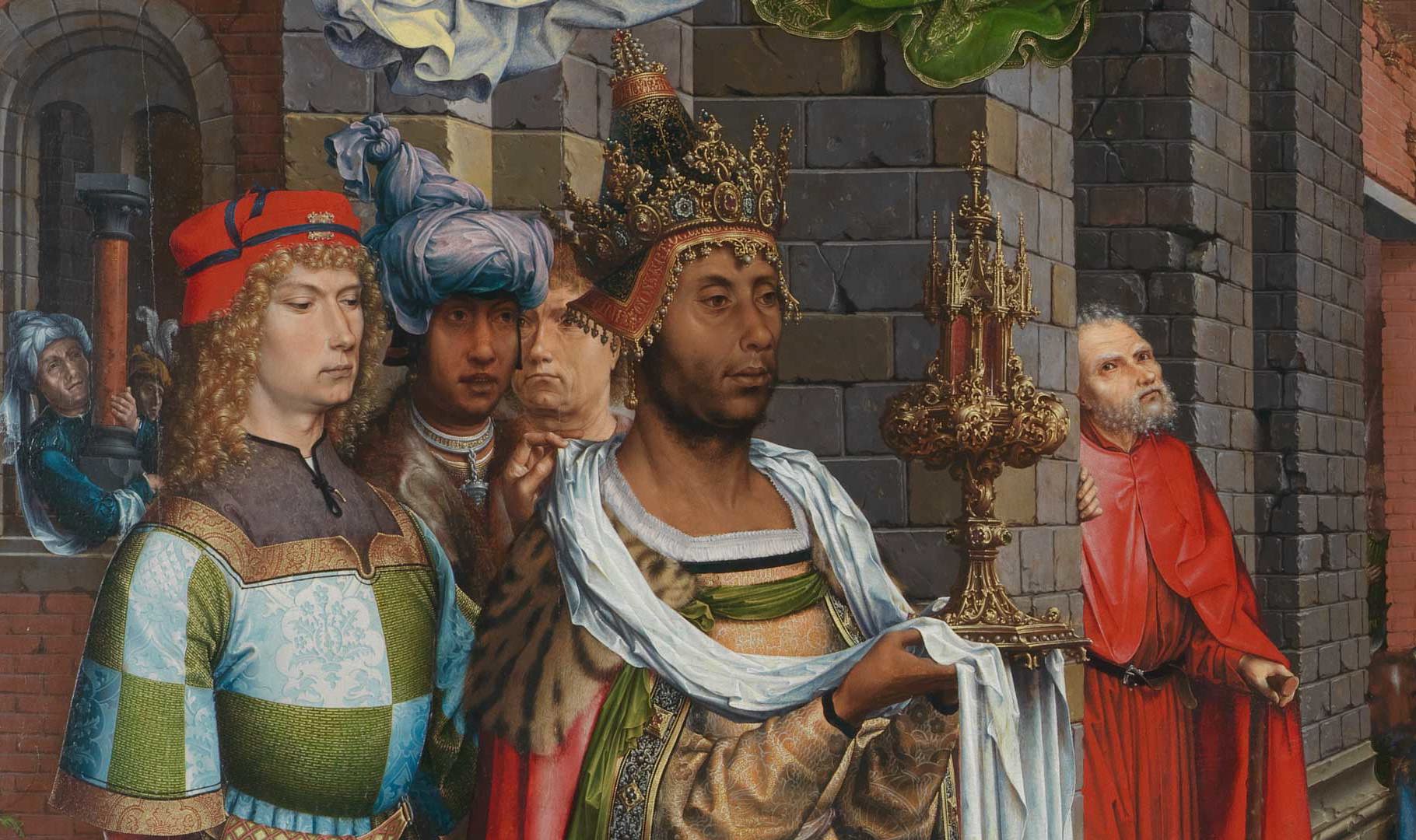 A true likeness? 
Gossaert has painted Balthasar's features so convincingly he might have modelled the king on a real person, perhaps someone he saw and drew. Balthasar is a powerful presence in the painting. Gossaert has chosen to sign his name twice: on the king's headpiece and the collar of his attendant. 
Gossaert's contemporary, the artist Albrecht Dürer, made sketches of Black people he encountered during his travels in Europe. Many were not enslaved but worked in households, at courts as musicians or cooks, for example, as soldiers, or in independent occupations. In Venice at this time, there were a number of Black gondoliers. 
Balthasar's experience then and now
A guiding theme in the design of the experience was the relevance of the painting to our world today. To emphasise the comparability, we commissioned Theresa Lola, until recently Young Poet Laureate for London, to write a poem which explores Balthasar's experience of this transformative moment in time.  
Transformed into the voice of Balthasar, the poem fills the space as part of an abstract 360 soundscape. We hear Balthasar speak about his feelings as he journeys away from this transformative moment in time. 
Like the painting, the poem captures the sudden moment of transformation when change, which has been invisible for so long, suddenly becomes visible and the world ruptures.