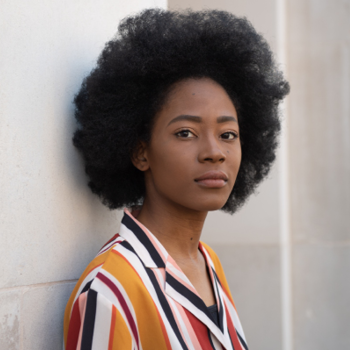 A voice of today deepens our understanding
We commissioned British Nigerian poet and former Young People's Laureate for London, Theresa Lola, to write a poem that brings to life the painting's themes of rupture, transformation and renewal through the story of Balthasar, the Black King featured prominently in the painting.
Her new poem is an integral part of the experience as the voice of Balthasar, speaking to us in a spatialised 360 soundscape. We hear Balthasar speak about his feelings as he journeys away from this transformative moment in time. 
Look at the Revival
I am heading home
carrying the strange weight of my last encounter.
A child shouts 'Balthazar the Black King',
the words shake in my ear like a drunk fly.
The ground seems to be opening its teeth,
either to bite or to kiss me— my eyes feel foreign.
I guess to know deeply, one must look deeply.
Plants are blooming from the ground,
their leaves have the surreal spread of angel wings.
Bewildered I swallow ginger powder,
hope the sharp taste will jolt me
awake from this strange scene.
Stars begin falling like a rainy revival.
Should I promise my people this is hope arriving?
My job often feels like a hefty stone
But today I am powered by a fierce awe.
I say to the stunned people let us look deeply
to know this hope deeply.
Image: Theresa Lola, Photo: Hayley Madden for 'Spread the Word'