'Sensing the Unseen' was designed and developed differently. It is the first exhibition at the Gallery to be created as part of our new innovation programme which explores new kinds of Gallery experiences using digital technologies and which places our visitors at the heart of the design process.
This is a YouTube video player. Below the video are the title, view time and description. Below that is a carousel of video thumbnails. Clicking a thumbnail will load and play that video.
So, how is it different?
Instead of starting with an idea, we started with a question  
How can we bring to life the visual detail in Gossaert's painting and its themes of transformation, rupture and renewal?  From this question, we generated multiple ideas and held onto these lightly and let go of them easily so we could create the best experience we could  within our budget and the limits of the available technology .
Many of these ideas were not take any further after rapid review by the team, others were used as inspiration for new ideas and some were storyboarded or prototyped and tested with our target audiences.  As we started more detailed specification work, the concept design process continued; technical and financial limitations meant we had to redesign, simplify or reimagine.  And each time we did this, the concept was streamlined and refined. 
The exhibition concept is not the idea of one person or an agency
It was developed in the Gallery by an interdisciplinary creative team comprised of Gallery experts and external collaborators from diverse fields working together in a flat team structure.  Details of these team members can be found at the bottom of this page.
Our audience was at the centre of our design process
The value of our ideas was judged by prototyping and testing them with over seventy of our target audiences. Through this process we generated lots of learning about this audience; what they do and don't enjoy and what they are looking for in a gallery experience. In the first three sprints, this learning provided the parameters around which we created our ideas and concepts.  As the design process progressed and our prototypes became closer to the 'real life experience', the feedback we sought from our audiences was more specific, for example what they enjoyed or found frustrating about a gestural interaction interface or the how effective the instructions were in the onboarding video prototype.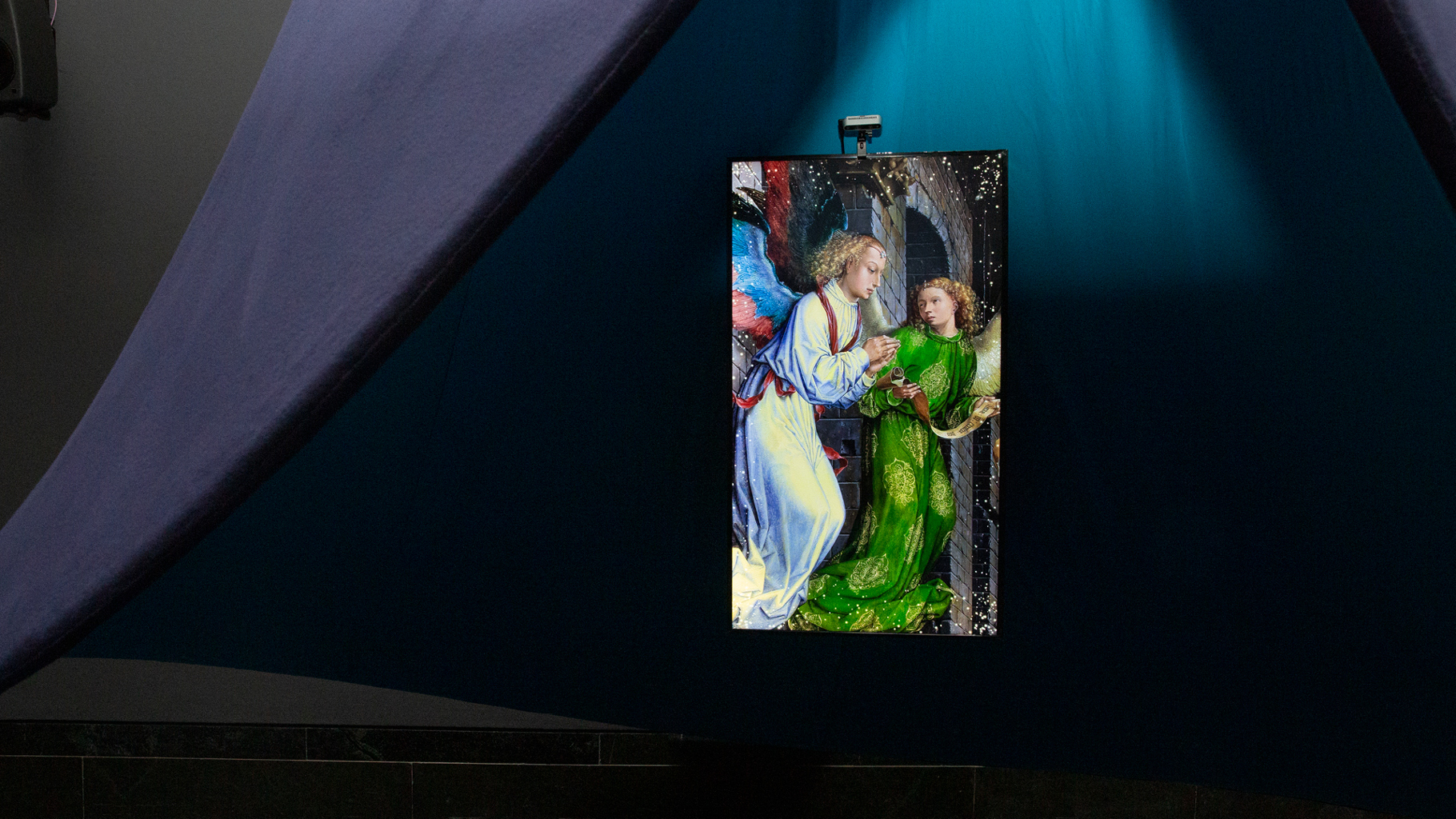 We designed for a specific audience… so we could create the best experience for everyone
Designing for 'everybody' often leads to poor design. The products most loved by everyone frequently started out being designed for a specific group of 'someones'.  We started with a demographic which is under-represented in the Gallery's audience: 18–34-year olds. Through street interviews and other research, we identified a group within this demographic to target. We called them Young Culture Escapists. This experience was co-designed with approximately 70 people who belonged to this group.
We worked in a different way
We worked as a team and with our target audiences in intensive blocks of time (or sprints). The first three sprints, until the first lockdown in March, took place in National Gallery X, and then they took place remotely using Zoom and online tools.  Designing and developing an exhibition like this remotely with such a diverse team and members of the public was a new kind of challenge but one everyone embraced.
From one of our prototype user testing participants...
'I really enjoyed being part of the user testing process.  Experiencing the development of the 'sonified' painting from the first online prototype in sprint 4 right through to the full experience it is now has been an exciting journey.
I was encouraged to give very honest feedback in all the three stages of testing I took part in, and it was great seeing how it shaped the development of the experience, and how willing the team were to radically change the design as it progressed.'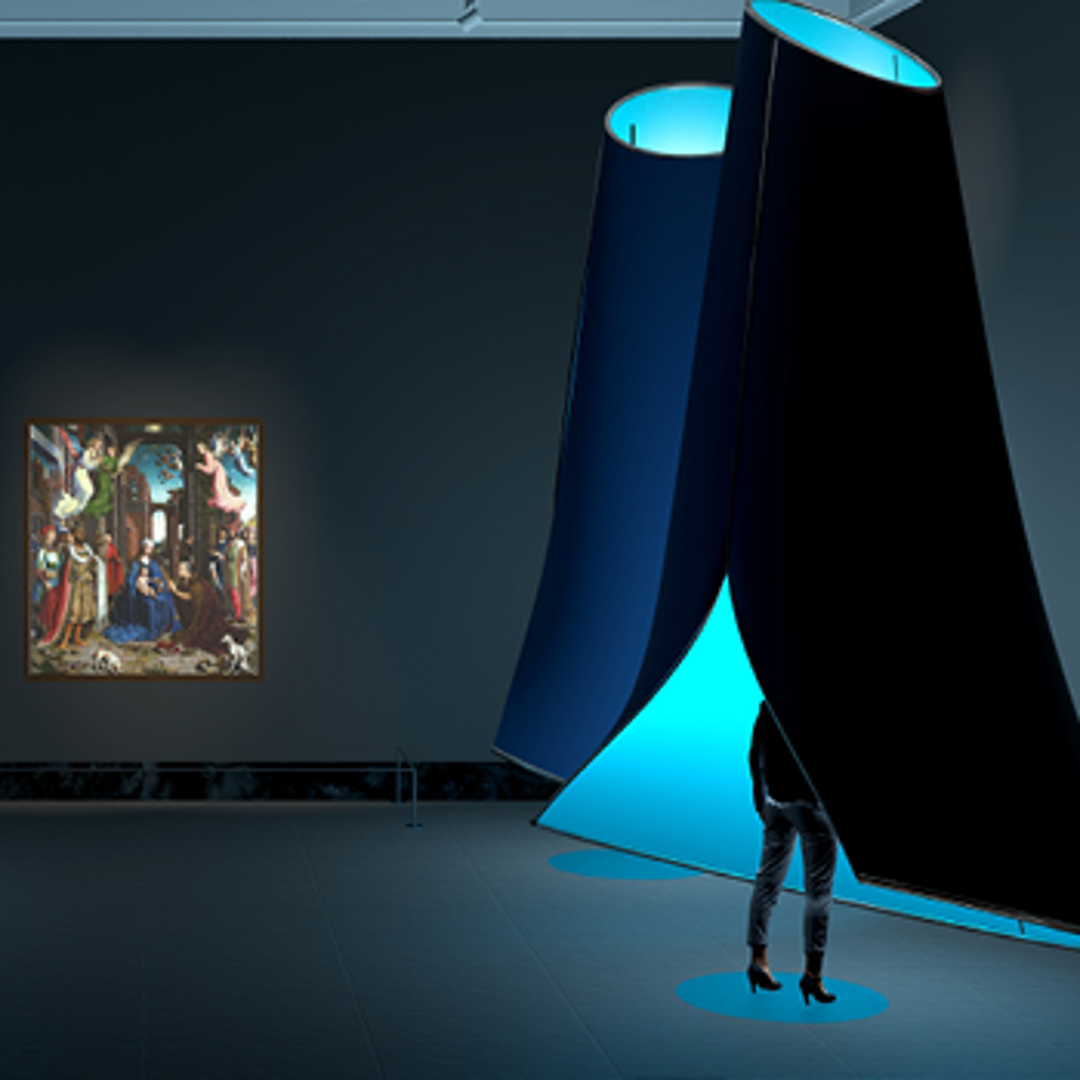 In figures
Over 70 target visitors engaged in eight rounds of user research and prototype testing
Around 50 concept ideas generated by the team
11 storyboard concept prototypes tested in early sprints to learn more about our target visitors
35 different digital prototypes developed and tested to gather audience and collaborator insights on format, content, interpretation and interactions
Team and acknowledgements
Thank you to the Gallery professionals and independent creatives who made this exhibition possible.
Susan Foister,  Curator
Emma McFarland, Project Lead and Innovation and Project Design
Nick Ryan, Sound Design and Composition
Theresa Lola, Poetry
Vasilija Abramovic, 3D Installation Design
Christopher Hunt, Lead Creative Technologist
Will Hurt, Creative Technologist
Wilkie Branson, Animation
Studio ZNA, Lighting Design
Polly Richards, Interpretation Editor
Anne Fay, Inclusion and Access
Clementine Vaughan, Digital Project Management
Valeria Fioretti and Sue Thompson, Exhibitions Management
Nicola Smith, Build Management
Belén Cao Ruiz, Exhibition Identity
Jon Sheldon and Alessandro Sorenti, Audio Visual Installation
Additional studio time provided by Somerset House Studios
The surround sound speaker system incorporates spatialised audio software provided by Professor Zoran Cvetkovic, King's College London and Dr Enzo De Sena, University of Surrey.
Exhibition concept
This exhibition was designed by a team of artists, designers, creative technologists and Gallery professionals working together in an interdisciplinary team to design the concept and develop the experience with our visitors.
Thank you to all the members of the public who contributed to the design of the exhibition concept, working with the following National Gallery staff and independent creatives: Elly Bowness, Wilke Branson, Lawrence Chiles, Anne Fay, Susan Foister, Panja Göbel, Christopher Hunt, Will Hurt, Emma McFarland, Nick Ryan and  Clementine Vaughan.