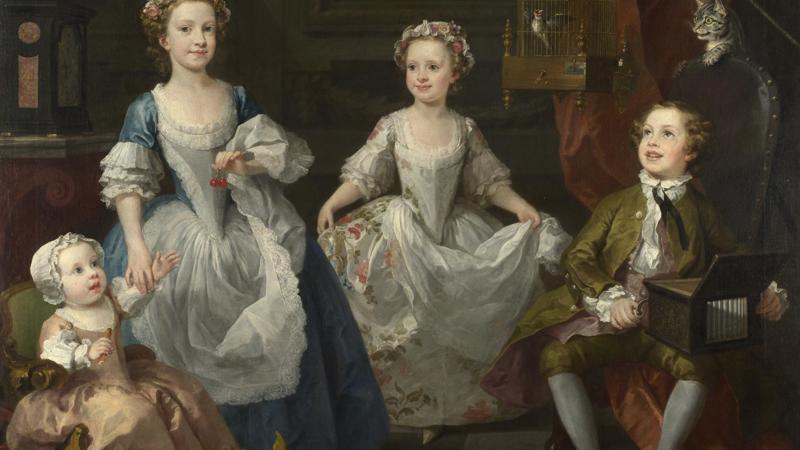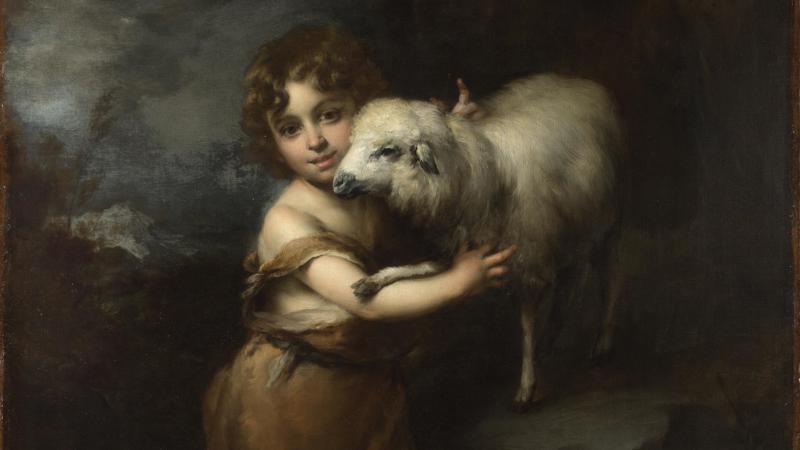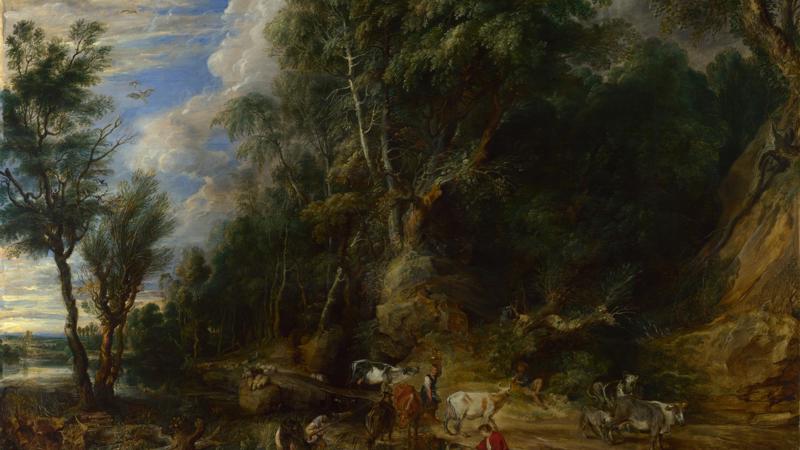 'The Graham Children' by William Hogarth, 1742 
Van Dyck's representations of children became exemplars for many British artists including Hogarth, Gainsborough and Reynolds. Hogarth had been trading under the 'Sign of the Golden Head' (a bust of Van Dyck) at his house in Leicester Fields since 1733 and his admiration for the Flemish artist is clearly shown in the life-size portrait of the Graham Children. It has been suggested that Hogarth's model here was Van Dyck's 'Five Eldest Children of Charles I' (Royal Collection Trust, 1637).
Both images sympathetically show the different stages of childhood, the eldest child directly engaging with the viewer, while the attention of their younger siblings is distracted. Given the Graham family's long-standing connection to the British monarchy, as royal apothecaries, the resonance of Hogarth's portrait and its Old Master borrowings relate not only to artistic concerns but were appreciated by his client, Daniel Graham, in terms of his social status.
'The Painter's Daughters chasing a Butterfly' by Thomas Gainsborough, probably about 1756
The transition to large-scale portraiture was vital for Gainsborough's career, both in terms of attracting the most affluent patrons and gaining him privileged access to their art collections. From the late 1740s, Gainsborough utilised his family and friends as sitters and subjects to experiment with larger formats, looser brushwork and different genres. These portraits underscore his debt to Van Dyck, alongside his association at the time with Hogarth and his circle.
The most innovative result shows Gainsborough's daughters, Margaret and Mary, outdoors chasing a butterfly. The handling of paint is much freer, mirroring both Van Dyck's technique and the sense of spontaneity in the figures. Van Dyck's naturalness and sensitivity in representing children was much admired during the 18th century. His portraits of Charles I's children and the Villiers brothers present them as real children instead of miniature adults, as had been the norm.
'Mr and Mrs Andrews' by Thomas Gainsborough, about 1750
Many of Gainsborough's portraits up to 1750 followed the then fashionable 'conversation pieces' (small-scale group portraits with full-length figures) that evolved from French fêtes galantes (an outdoor entertainment or rural festival), which suited Gainsborough's well-documented enthusiasm for landscape painting. His now celebrated portrait of local Essex gentry, Mr and Mrs Robert Andrews, combines French and Dutch art alongside the topographical tradition that celebrated land and estate ownership. In the process, Gainsborough was able to create an image that has since been described as quintessentially English.
Its overall effect and scale represent a dramatic contrast to another portrait of a young couple, 'The Morning Walk', which he painted in the 1780s. Taken together, these two portraits, spanning some 35 years, both demonstrate Gainsborough's enduring attachment to rural scenes, while revealing just how far his painting had developed and transformed, largely through the example of Van Dyck.
'Bacchus and Ariadne' by Titian, 1520–3
A persistent myth linked to 'The Blue Boy' is that it was created by Gainsborough as a rebuff to his great rival, Sir Joshua Reynolds. The circumstances of the dispute were first recorded in 1820 and focussed on whether blue could be used successfully as the dominant colour in a painting. As the legend goes, Gainsborough thought it could and Reynolds disagreed. In 1778, Reynolds gave a lecture at the Royal Academy stating that 'the masses of light in a picture' should always be 'of a warm mellow colour'. As a result, cooler colours such as blue, grey or green, should be used sparingly.
The painting Reynolds specifically mentions to demonstrate his point, is Titian's 'Bacchus and Ariadne', which was celebrated at the time for its harmony of colouring. In comparison to the Venetian painter's superior colour management, Reynolds thought that the work of Van Dyck and the Flemish school seemed 'cold and grey.'
'The Vendramin Family' by Titian, about 1540–45
Gainsborough and his contemporaries – keen to elevate the status of the artist in Britain – admired Van Dyck for what he represented in the round: as a painter, courtier, collector and connoisseur. Among the prestigious Italian pictures that he brought to London were masterpieces by Titian, including 'The Vendramin Family'. Van Dyck admired Titian more than any other artist, a passion he shared with Charles I, who, in turn, regarded Van Dyck as the living embodiment of the Renaissance artist.

At various stages in his career, Gainsborough copied paintings by the likes of Van Dyck, Titian, Rubens and Rembrandt. Such copies functioned as studies in technique, composition and subject matter, as well as declarations to current and future patrons of the artist's skill, knowledge and taste. Gainsborough made a copy of 'The Vendramin Family' in about 1780, when it was the most famous painting by Titian in Britain.
'The Infant Saint John with the Lamb' by Bartolomé Esteban Murillo, 1660–5
According to the Gospel of Matthew, Saint John the Baptist lived in the wilderness as a young man. Here he is represented as an angelic child. By transforming adult biblical characters into children, Murillo appealed to viewers, encouraging them to emulate a child-like state of innocence and purity. This was something for which Murillo was particularly admired, and his paintings of children inspired many 18th- and early 19th-century British painters, such as Gainsborough, Reynolds and Lawrence.

Gainsborough executed numerous copies after works by 17th-century artists, including Murillo. In 1780, he made a copy after 'The Good Shepherd' by the Spanish painter, at a time when he was exhibiting similarly large-scale paintings focusing on poor children in landscape settings. Undoubtedly the visual relationship between Murillo's saintly children and Gainsborough's images of rural poverty was intended to inspire sympathy with 18th-century viewers.
'Mr and Mrs William Hallett ('The Morning Walk')' by Thomas Gainsborough, 1785
This marriage portrait shows the couple in fashionable dress taking a stroll in a romanticised setting. The feathery brushwork adds a sense of movement through the slanting strokes in the sky and foliage. Van Dyck's influence can be seen in the delicate harmony of the couple's poses and gestures, and in the predominance of black with a hint of white in one costume, which is then reversed in the other. Equally, Gainsborough increasingly applied thin paint layers in a 'hatching' manner, a technique then firmly associated with Van Dyck and Rubens.
Interestingly, there seems to be only one published review during Gainsborough's lifetime that links him and Van Dyck by name. This changed after Gainsborough's death in 1788, with one claiming that he was the only contemporary artist in England to paint in the 'thin, brilliant style of pencilling of Vandyke'.
'Peasants with Cattle by a Stream in a Woody Landscape ('The Watering Place')' by Peter Paul Rubens, 1615–22
In 17th-century Flanders, landscape began to be accepted as a genre of its own instead of as a mere background for narrative paintings or portraits. For Rubens it became a way of celebrating the Flemish countryside he loved. But in England, contemporary landscape painting was largely neglected, even into the 18th century, until artists such as Richard Wilson, George Lambert and Gainsborough turned their attention to it.
Gainsborough saw Rubens's painting, now known as 'The Watering Place', in the London home of the 3rd Duke and Duchess of Montagu in 1768 when he painted their portraits. He was so impressed by Rubens's painting that he advised his friend, the actor and playwright David Garrick, to invent an excuse to call on the duke and see it. Gainsborough painted an ambitious, large-scale landscape, also known as 'The Watering Place', as a tribute to the Flemish artist.
'The Watering Place' by Thomas Gainsborough, before 1777
This painting was probably made in London after Gainsborough's return from Bath in 1774. It was one of six works he sent to the Royal Academy exhibition in 1777, where it was exhibited simply as 'A large landscape' and was praised by various visitors and commentators. One reviewer wrote: "Tis hard to say in which branch of the art Mr Gainsborough excels, landscape or portrait painting."
Contemporaries noted the influence of the 17th-century Flemish master Rubens in Gainsborough's new richness of colour and energetic brushwork in his work from the late 1760s. But there is no evidence that Gainsborough made studies or copies of landscapes by Rubens. However, he did see and admire Ruben's 'The Watering Place' in London in 1768. When Gainsborough's landscape painting entered the National Gallery in 1827, it became known as 'The Watering Place', like Rubens's painting, which was purchased for the Gallery in 1936.
'Portrait of Charles William Lambton ('The Red Boy')' by Thomas Lawrence, 1825
In 1792, Lawrence was made Painter in Ordinary to King George III, and went on to become the unchallenged heir to the British portrait painters, Gainsborough and Reynolds, and the revered 17th-century Flemish artist, Van Dyck. Drawing on their example, he gained a lasting reputation for his sensitive portraits of children and young adults.
This portrait of Charles William Lambton, aged six or seven, was commissioned by the sitter's father and was exhibited at the Royal Academy in 1825. Unlike Gainsborough's famous portrait, 'The Blue Boy', who wears 'Van Dyck costume', Lambton is dressed in a red velvet 'skeleton suit' reflecting the contemporary children's fashion of loose-fitting clothes. It is unclear when the portrait gained its nickname, but after the sale of 'The Blue Boy' in 1921, the London Illustrated News published reproductions of 'Sir Thomas Lawrence's equally charming portrait which we have named 'The Red Boy''.