Explore the evolution of European fashion during the 18th century with dress historian Jacqui Ansell
About
Our exhibition focussing on Swiss artist Jean-Etienne Liotard's 'Lavergne Family Breakfast' offers the perfect opportunity to examine our collection of 18th-century portraits through the lens of fashion.
Liotard's charming portrait of a mother and daughter enables us to explore historical clothing and hairstyles, as worn by adults and children. Liotard lived from 1702 until 1789: what changes in European taste did he witness in dress itself, and the way in which it was depicted in art?
Taking his powerful portraits and self portraits as our starting point, we will delight in comparing the clothing and characters depicted by artists such as Hogarth, Gainsborough, Reynolds, Zoffany and Vigee Le Brun. Liotard's many travels open up questions about distinctions between fashionable, full and fancy dress, as worn abroad on the Grand Tour (and depicted by Pompeo Girolamo Batoni) or at home at court and country estates.
Consideration of pastel as a medium for portraiture will enable us to draw upon the work of the famous female artist Rosalba Carriera, as well as the lesser-known Katherine Reade.
Satirical prints will bring the follies of fashion to life as we consider the ways in which artists endeavoured to ensure that their portraits would stand the test of time, and appeal to posterity as well as contemporaries.
Week 1: 1700–50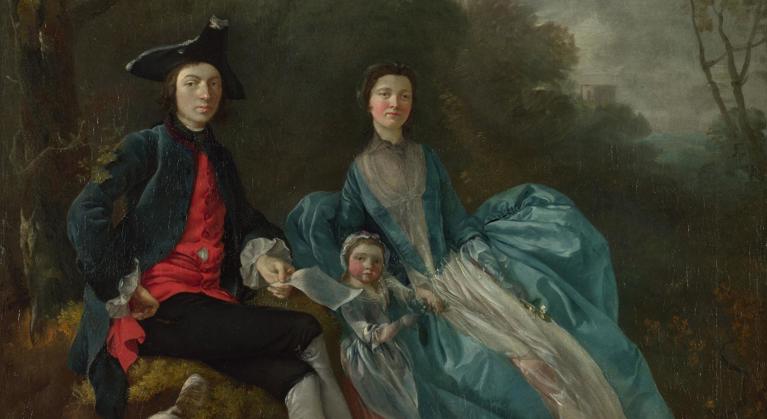 Fashion or fancy dress?
Jean-Etienne Liotard was known for his unconventional dress and hairstyle, and also for creating exquisite pastel portraits that record minute details of dress. In order to appreciate his life, work and individuality, it's useful to have an overview of the evolution of fashion in his day.
The early years of the 18th century were dominated by extravagantly high hairstyles for men. Long luxuriant locks signified purchasing power - even now we call important people 'big wigs'. The equivalent status symbol for women was enormously voluminous skirts. With a focus on work by Hogarth and Gainsborough, we will chart the key stylistic developments of the first half of the 18th century for men, women and children of the upper and aspiring-middle classes.
In the second half of the session, we will consider the fashion for fancy dress costume inspired by 17th-century portraits by Rubens and Van Dyck. Costume was worn at masquerade balls and recorded in art. By the end of the talk, you should be able to determine the difference between clothing and 'costume' and appreciate the rapid pace of fashion change.
Week 2: 1750–65
Courtly culture at home and abroad
Extended travel throughout continental Europe on 18th-century Grand Tours was the means by which wealthy boys became men, and men became gentlemen. The acquisition of fine manners, clothing and paintings was often the aim of such travellers, who could acquire pastel portraits painted by Rosalba Carriera in Venice, or by Pompeo Batoni in Rome.
Early works by Joshua Reynolds give us some insight into the clothing and character of male travellers, and will help us to understand the sartorial signals conveyed through Batoni's work. We will complement our discussion of male fashion with a close consideration of the dress worn in portraits of French fashion leader Madame de Pompadour, and vivacious Venetian dancer Eva Maria Veigel, who married popular actor David Garrick (and was depicted by Liotard, Hogarth and Zoffany). Surviving garments and caricature images will aid our understanding of mid-18th century fashions.

Week 3: 1765–1800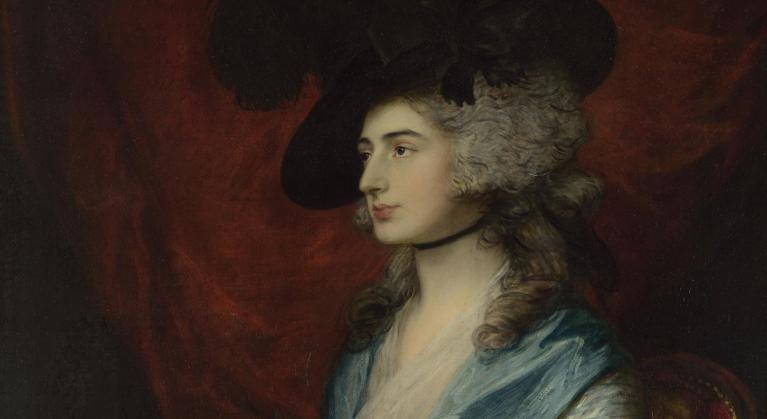 The follies of fashion: The real versus the Ideal
Caricaturists had much to focus on when satirising the fast-changing fashions of the late 18th century. Moralists also had a lot to say about the way in which men and women distorted their natural shapes and complexions with padding, false hair, and make up. Men returning from the Grand Tour in outlandish and avant-garde clothing were termed 'macaronis', and lampooned in the popular press. Artists such as Reynolds tried to avoid the extremes of ladies' fashion by painting them with 'the general air of the antique for the sake of dignity [and] something of the modern for the sake of likeness'. Female artist Élisabeth Louise Vigée Le Brun fell foul of the critics when she depicted Queen Marie Antoinette in a simple chemise dress.
We will complete our course with a consideration of how, when and why the taste for Neoclassical plainness in clothing replaced Rococo richness, as the fashion lead turned from France to Britain in the latter decades of the 18th century.
Your tutor
Jacqui Ansell is a former educator at the National Gallery and has devised and delivered courses and tours based on the collection for more than 25 years. A specialist in dating and decoding paintings through details of dress, she lectures on aspects of art and dress history for the Wallace Collection, National Portrait Gallery and the Arts Society. She is a Senior Lecturer at Christie's Education where she writes, presents and tutors online courses on art history, the art world, jewellery and watches.

Format
Each session lasts for 2 hours and includes a lecture delivered by course lecturer Jacqueline Ansell, followed by a short break and further discussion.
Time will be allowed for questions and discussion via Q&A.
Handouts are supplied on Wednesday mornings.
Watch again
Can't make Thursday afternoons but don't want to miss out? No problem, you can watch again.
'Fine art of fashion' sessions are recorded and made available to you for one week.
A video of the week's lecture will be uploaded by Monday. Just be sure to watch it by the following Monday lunchtime, as it will be taken down on Monday afternoon.
Booking after the course has started
You are welcome to join the module at any point during its three-week run. However, please note that you will only be able to see the recording from the previous session, as these are taken offline after one week.

Courses
The fine art of fashion: 1700-1800
Explore the evolution of European fashion during the 18th century with dress historian Jacqui Ansell
Online tickets
Standard: £37.50
Concessions: £35.25
This is an online course, hosted on Zoom.
Please book a ticket to access the event. You will receive an E-ticket with instructions on how to access your online events, films and resources via your National Gallery account.
Please note, only one ticket can be booked per account. Bookings close one hour before the event.
Concessions are for full-time students, jobseekers, and disabled adults.
Concessions are for full-time students, jobseekers, and disabled adults.