In association with the University of Cambridge
A major academic conference exploring Dürer's travels across Europe
Day 1
Programme

9.50am: Welcome
Gabriele Finaldi, National Gallery
Susan Foister, National Gallery
Alexander Marr, University of Cambridge

10am: 'Travelling with Dürer: Creating the Exhibition'
Susan Foister, National Gallery

10.30am: 'Dürer's "Self": Travelling as a Way of Caring for One's Own'
Andreas Beyer, University of Basel

11am: 'Places, Portraits, Pets and Piss-ups'
Cristof Metzger, Albertina Museum

11.30am: Q&A and round table discussion
Chair: Alexander Marr, University of Cambridge

12.15pm: Break

1.30pm: 'Reinventing Visual Tradition: Albrecht Dürer's Iconic Image of Saint Jerome'
Astrid Harth, Ghent University

2pm: 'Dürer's Gourdian Knot'
Alexander Marr, University of Cambridge

2.30pm: 'Between the Plate and the Slate; The Presentation of the Artist's Monogram in Dürer's Engravings'
Jeroen Stumpel, Utrecht University

3pm: Q&A and round table discussion
Chair: Shira Brisman, University of Pennsylvania

3.45pm: Close
Day 2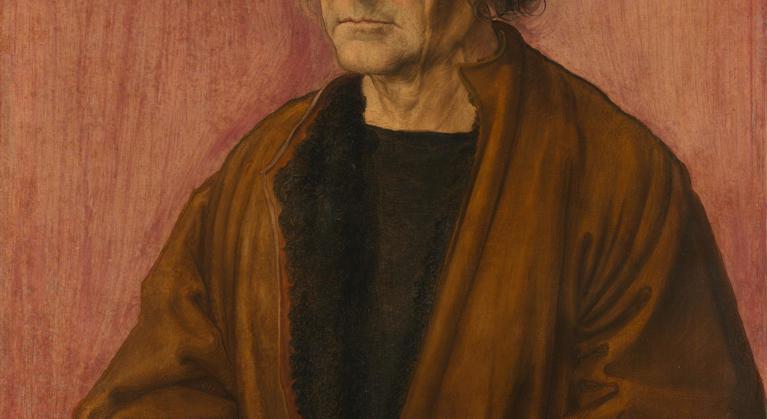 Programme
10am: 'Dürer in Alsace: Intermedial Ingenuity and the Journeyman Painter'
Mitchell Merback, John Hopkins University
10.30am: 'Dürer's Other Legacy'
Shira Brisman, University of Pennsylvania
11am: 'Dürer's Heraldic Prints on the Move'
Frances Rothwell Hughes, University of Cambridge
11.30am: Q&A and round table discussion
Chair: Susan Foister, National Gallery
12.15pm: Break
1.30pm: 'Geology, Evaporation'
Christopher Heuer, University of Rochester
2pm: 'New Perspectives on Albrecht Dürer's Late 'Oblong Passion' Drawings'
Dana Cowen, Ackland Art Museum
2.30pm: 'From Drawing into Print: Aspects of Dürer's Legacy in Nuremberg and Antwerp'
Giulia Bartrum, independent scholar, formerly British Museum
3pm: 'Dürer's Portraits: Tying-up Loose Ends: Albrecht Dürer and his Portrait Models'
Peter van der Brink, independent scholar, formerly Suermondt-Ludwig-Museum, Aachen
3.30pm: Q&A and round table discussion
Chair: Emma Capron, National Gallery
4pm: Closing remarks
Close
Conferences & seminars
Dürer's Journeys conference: Online option
In association with the University of Cambridge
A major academic conference exploring Dürer's travels across Europe
Live stream tickets
Standard: £30
Students: £15
This is a live stream of the conference taking place in the Sainsbury Wing Theatre, hosted on Zoom.
Ticket price includes both days of the conference.
Only one ticket can be booked per account. You will be emailed an E-ticket with instructions on how to access your online events, films and resources via your National Gallery account.
Bookings close one hour before the event begins.